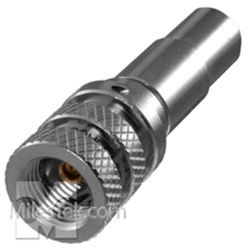 "These new vacuum-rated connectors were designed for use in thermal vacuum chamber research and development applications involving high-performance satellites and space vehicles where there is zero margin for error," said Mark Hearn, Product Manager
DENTON, Texas (PRWEB) July 25, 2017
MilesTek, a leading manufacturer and supplier of products designed to address military and avionics applications, announced today that they have released a new series of vacuum-rated TVAC connectors that are designed and manufactured with materials that meet the Total Mass Loss (TML) or out gassing requirements of NASA.
This new connector series consists of five different models that can be terminated to .129" O.D. cable. These 78 Ohm connectors are designed for high-temperature applications with an operating temperature ranging from 55°C to +200°C. Available connector styles include TCS, TRB, TRS and TTM.
"These new vacuum-rated connectors were designed for use in thermal vacuum chamber research and development applications involving high-performance satellites and space vehicles where there is zero margin for error. These connectors can be used to build new assemblies or as replacement connectors to repair existing assemblies," said Mark Hearn, Product Manager.
In addition to these new connectors, MilesTek recently launched a series of vacuum-rated TVAC cable assemblies.
For more information about this release, please contact:
Peter McNeil
MilesTek
17792 Fitch
Irvine, CA
978-682-6936 x1174
About MilesTek:
MilesTek designs and manufactures a broad range of MIL-STD-1553B products to address Military Avionics, Aerospace, Industrial and government applications. In addition to a wide selection of off the shelf products, MilesTek can custom manufacture cable assemblies and harnesses. MilesTek is headquartered in Denton, Texas and is AS9100C and ISO9001:2008 certified. MilesTek is an Infinite Electronics company.