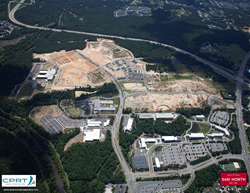 The 5401 North new home community in Raleigh continues to build momentum with the deep involvement and commitment of leading builders like Level Homes, Lennar and Chesapeake Homes – John Engquist, Engquist Ventures.
RALEIGH, North Carolina (PRWEB) July 27, 2017
Three of the nation's leading home builders have acquired additional lots in the innovative 5401 North master-planned community in Raleigh, North Carolina.
Homeowners in 5401 North will enjoy distinctive new homes with authentic regional architecture and an array of amenities that include miles of hiking and biking trails, a Community Farm, a soon-to-open middle school, and a state-of-the-art planned community center and pool.
With a strong focus on nature, sustainability and ample amounts of open land for residents to enjoy, 5401 is not just a place to live – it's a place to live better. These builders are contributing to the vision that has made 5401 North one of the leading new home communities in the nation:

Level Homes has purchased 20 additional lots to construct three-story townhomes in 5401 North. Ranked as the fastest-growing "Next 100" builder in the nation by Builder Magazine, Level Homes has received three 2017 MAME Awards from the Home Building Associations of Raleigh-Wake and Durham, Orange and Chatham Counties. The company was also named the 5th Fastest-Growing Private Firm in Raleigh-Durham by The Triangle Business Journal.
Lennar, the second-largest homebuilder in the nation, has acquired 17 lots to construct single-family homes in the community. The Fortune 500 and New York Stock Exchange-traded firm will bring its expertise – and its well-deserved reputation for quality, integrity and value – to 5401 North.
Chesapeake Homes, a leading builder in Virginia and Raleigh, has acquired forty lots to construct two- and three-story townhomes. With nearly a quarter-century of building excellence, Chesapeake Homes is proud to support the Susan G. Komen Race for the Cure to fight breast cancer and Operation Coming Home, which supports the nation's veterans.
"5401 North continues to build momentum with the deep involvement and commitment of leading builders like these," said John Engquist, principal of Enqquist Ventures, LLC, a leading investment firm for 5401 North.
"With a unique focus on sustainability and Traditional Neighborhood Design, 5401 North offers an enviable lifestyle in Raleigh, ranked as one of the fastest-growing metro areas in the nation by Forbes Magazine," Enqquist said.
Located eight miles northeast of Raleigh, 5401 North will ultimately comprise 996 homes. With unparalleled access to leading restaurants, retail and office space, 5401 North promotes learning, connectivity, health and personal growth.
"We are thrilled to add these top-notch builders to our offerings at 5401 North. It expands upon the idea that we have something for everyone," said John Myers, President of JPM South Development.
"With Riverbend Elementary and Middle School located within the community, and Wake Tech College next door, 5401 North also offers an unequalled focus on education," Myers added.
Visit 5401 North online to learn more about this visionary community and its award-winning new homes and builders.