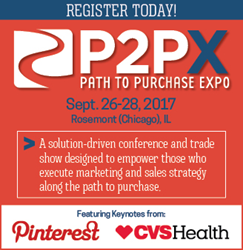 Chicago, IL (PRWEB) July 05, 2017
Registration is now open for the 2017 Path to Purchase Expo (P2PX), taking place Sept. 26-28 in Rosemont, IL. P2PX – the world's largest gathering of brand manufacturers, retailers, agency professionals and solution providers – attracts more than 3,000 attendees to share the latest strategies and cutting-edge solutions to market to shoppers. Executives from Pinterest, CVS Health and WSL Strategic will provide the keynote addresses.
More than 100 speakers will present insights and case studies during 40 seminars covering topics in the quickly changing retail landscape, from in-store activation to omnichannel solutions to shopper technology. P2PX presenters represent leading companies including Albertsons Companies, Arc Worldwide, Campbell Soup Company, The Clorox Co., Colgate-Palmolive, FreshDirect, Nielsen, PepsiCo, Procter & Gamble, REI and Starbucks Coffee Co.
In addition, three symposiums offer a deep-dive into important retail issues, including e-commerce and the shopper journey, challenges in meeting the needs of the multicultural community, and the core enablers of higher order shopper success in organizations.
P2PX will host two related events that commemorate industry excellence. The second annual Women of Excellence Reception will honor four female executives for their involvement in influencing shoppers along the path to purchase and distinguishing themselves in the areas of collaboration, innovation, leadership and "rising star." The Design of the Times Awards Reception & Ceremony will celebrate the year's most effective in-store displays and digital activations.
About the Path to Purchase Expo
The Path to Purchase Expo is a highly concentrated, solution-driven conference and trade show designed to empower those who execute marketing and sales strategy along the path to purchase. Learn more at path2purchaseexpo.com.
About the Path to Purchase Institute
The Path to Purchase Institute is a global association serving the needs of retailers, brands and the entire ecosystem of solution providers along the path to purchase. It champions shopper-centric thinking and practice that help define the ongoing evolution of consumer marketing and the overall shopping experience. Learn more at p2pi.org.