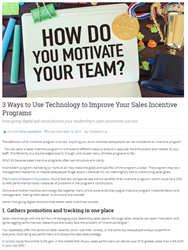 Manage multiple sales promotions with different goals, so you're not always dangling the same old carrot in front of your team for the same old behaviors.
Atlanta, GA (PRWEB) July 10, 2017
Traditionally, operating successful dealer incentives programs has been difficult for dealerships. Due to their wide networks of salespeople and varying management priorities from one region to another, it's not easy to get an entire network on track to meet target sales incentives goals. According to a new Dealer Marketing article authored by Incentive Solutions CEO Steve Damerow, breakthroughs in communication and data exchange technology could be just what dealerships need to increase sales with more effective dealer incentive programs.
Online and mobile incentive technology allows dealers to offer a diverse rewards selection to all program participants, while scheduling, managing and tracking multiple sales promotions throughout the dealer network on the same platform. "You manage multiple sales promotions with different goals, so you're not always dangling the same old carrot in front of your team for the same old behaviors," Damerow says. "You can offer varying rewards for salespeople who get customers to extend warranties or schedule service inspections and maintenance, for example."
Incentive technology improves dealers' ability to communicate to their dealer audience with convenient, instant and diverse ways to connect. Flexible, online communication tools help dealers create specific, targeted touch points that reach sales reps the way they want to be reached, through texts, emails, flyers and more.
Last but not least, online technology goes hand-in-hand with dealer training incentives. A highly configurable, online training incentives program allows dealers to diversify sales reps' training and ongoing learning. "For example," Damerow says, "you can provide ongoing training to salespeople about your service department so they can educate buyers on their vehicles' maintenance needs. This encourages return visits to your dealership for service, and makes customers more likely to refer others."
By tying together the loose ends of dealer sales motivation and goal alignment efforts, online incentive technology provides a viable, tactical means for dealers to improve sales performance. Dealer incentive program advisors Incentive Solutions and Dealer Marketing magazine encourage dealers to take advantage of new technology that helps them establish competitive differentiations.
About Incentive Solutions
Incentive Solutions, Inc. was founded in 1994 and is based in Atlanta, GA. Incentive Solutions offers online rewards, travel incentives and gift card reward programs. Incentive Solutions, as an innovator in the incentive industry, creates and uses their own in-house, emerging incentive technologies that help companies increase sales, engage and motivate employees, encourage customer loyalty, create positive work environments and enrich sales channel relationships.
Incentive Solutions
2299 Perimeter Park Drive, Suite 150
Atlanta GA 30341
1-770-457-4597
1-866-567-7432
http://www.incentivesolutions.com