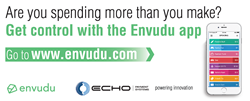 "It may be a first to see the word, 'saving' in the same sentence as Las Vegas but what better place to announce the launch of a tool that makes it easy and fun to save money?"
Las Vegas, Nevada (PRWEB) June 30, 2017
At a special event for entrepreneurs and Venture Capital funds hosted at the RedFlint Experience Center, UNLV's Rebel Venture Fund announced their largest investment in their newest portfolio company Echo Payment System's Inc. (Echo) and the coinciding launch of Echo's new Envudu program.
"It may be a first to see the word 'saving' in the same sentence as 'Las Vegas' but what better place to announce the launch of a tool that makes saving money easy and fun?" asked Ronald Ingram, Founder and CEO of Echo Payment Systems.
The company is the brain-child of serial entrepreneur Ronald Ingram who spotted a global opportunity spanning several market verticals and industries. Echo is a new Fintech platform that offers companies highly customizable payment solutions including mobile wallets, apps, debit and prepaid cards tailored to specific company needs. The financial management tools and services offered by next generation banks (neobanks) and companies like Envudu are made possible by Echo's middleware and Application Programming Interfaces (APIs).
"Echo is our largest commitment to date and a significant step towards diversifying Vegas' innovation eco-system. Echo is comprised of top executives with extensive international money center, technology, compliance and banking expertise led by Ingram. We view Echo as a potential home run for us financially and hopefully the initiation of a new dimension of innovation in the Vegas valley," said Grant Anderson, a Director of Rebel Venture Fund.
"Normally we invest in startups but Echo presented a rare opportunity to take a meaningful stake in a company in the early stages of potentially explosive growth. Besides the technology, we invested in a team with an outstanding track record. They are among the absolute best in their industry."
"We are very pleased that UNLV has taken an interest in Echo. Beyond funding, we see the university as a long-term strategic partner that can funnel talent to Echo. Also, the Envudu program is a great way for entrepreneurs to pay their people. It's a must have for students and their parents to cultivate fiscal responsibility." added Ingram.
When asked, "Why Vegas?" Ingram says, "We are a global business but I located here because Vegas is more and more attractive for Fintech (Fintech). The biggest conferences in our industry like Money 2020 bring everyone we need here. Travel, taxes and cost of living are ideal, and the addition of NFL and NHL teams – Raiders and Golden Knights - will make this cosmopolitan city even more appealing for partners, clients and employees."
Positive Customer Impact:
Many customers already benefit from the Echo-powered Envudu App. Utah based, Envudu, recently committed to deploying the Echo-powered Envudu App to 200,000 plus customers. The Echo-powered Envudu App will enable Envudu to seamlessly integrate its new money management application with a payment card that can be used for bill payments, payroll, ATMs and 60 million plus merchants that accept major brand payment cards world-wide.
"Echo has enabled us to integrate automated budgeting into a banking platform. No more manual data entry. Echo enables our customers to automatically allocate incoming payroll deposits to digital envelopes that paint a picture of how they want to spend each dollar, providing unparalleled visibility and accountability into personal expense management," said Ryan Ruff, CEO, Envudu.
Envudu beta customers had this to say…
"We have more money than we've ever had before" - Mikaela Hanson.
"I wish we had this years ago" - Bruce Slater
Availability: The Echo-powered Envudu App is available by invitation only at this time. To get on the list go to http://www.envudu.com.
About The Rebel Venture Fund:
The Rebel Venture Fund is a unique student-led venture capital fund. It allows students from any major to apply for membership to make investments in startups and scaling businesses on behalf of UNLV. Through reviewing internal company documents and interviewing founders, it gives exposure to every aspect of business including finance, accounting, patent law, engineering, marketing, and more. This opportunity is not available to students even at most elite universities.
Recently, the Rebel Venture Fund made massive progress by expanding its network to establish relationships with some of the largest angel investing funds in the United States, including Silicon Valley. This allowed the fund to expand its deal flow pipeline to include deals that have gathered the investment of high-profile figures such as Mark Cuban.
For more information on the Rebel Venture Fund, please visit http://www.rebelventurefund.com.
About Echo Payment Systems Inc.:
Echo Payment Systems Inc. (http://www.echopaymentsystems.com) was founded in 2015, by Ronald Ingram, in Henderson NV. Echo offers a wide range of products and services designed to enable access to basic banking services for the nearly 77 million unbanked and underbanked plus millions of millennial groups and small businesses in the United States who are looking for better and easier ways to pay and be paid. With Echo they have access to seamless and cost effective global money transfer.
Ingram is an inventor and recognized leader in Fintech innovation. Companies and products created by Ingram since 1999, today represent over $23 billion in annual transactions. Other enterprises and innovations by Ingram include P2P lending, and a patented system for risk assessment and scoring for online lenders.
Go to http://www.envudu.com to get on the invitation list.