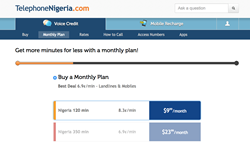 Very very good! I have been using TELEPHONENIGERIA for 3 years non stop and I enjoy excellent calls to my lovely family and friends. (benjamin ani on Trustpilot.com)
Atlanta, Georgia (PRWEB) July 03, 2017
TelephoneNigeria, the service dedicated to Nigerian expats worldwide, announces lower rates to call mobile phones and landlines in Nigeria starting this month. The new rate of the monthly plan is 17% lower. What happened is that Nigeria 300 turned into Nigeria 350 and has now 50 more minutes at the same price of $23.99 / month. The international calling service requires no contract, yet one needs a PIN to be able to make international calls. A PIN is automatically received once someone registers on TelephoneNigeria.com and purchases a plan like Nigeria 350 or Nigeria 120, or at least $2 Voice Credit.
Nigerians abroad benefit now of 17% OFF on the monthly plan to call Nigeria, and the lowest rate on the global market: 6.9 cents/minute. This happens thanks to a smart move TelephoneNigeria.com team made. 50 more international minutes were added to the initial plan called Nigeria 300, while keeping the same overall price. So, the new plan, Nigeria 350, includes 350 international minutes to landlines and mobiles in Nigeria at the same price of $23.99 / month.
For those who need less than 350 minutes, TelephoneNigeria has newly launched Nigeria 120 monthly plan. It comprises 120 international minutes to Nigeria landlines and mobiles for a monthly price of $9.99 / month. The unique rate to call both landlines and mobile phones in Nigeria with Nigeria 120 is 8.3 cents/minute.
The calling plans on TelephoneNigeria.com are flexible in several ways:
-Anyone can upgrade or downgrade their current plan according to his/her real needs; one can go from Nigeria 120 to Nigeria 350 with no penalty or extra fees, and vice versa.
-Plans can be deactivated, and reactivated when needed without any penalties or other financial duties.
-Payment can be made from anywhere in the world using the local currency of the region.
-Payment is possible with PayPal, as well as all major cards: MasterCard, Discover, American Express, JCB, Visa, Union Pay.
Calls can be made in two different ways with TelephoneNigeria balance:
-Calls from a smartphone, using KeepCalling app for Android and iOS devices
-Calls that don't require Internet connection, and only use an access number in the area of residence, just like a smart alternative to calling cards; yet at much lower rates.
Voice Credit is an alternative to monthly plans. The credit never expires and that the benefit of those who do not make international calls on a regular basis. The new unique rate is 9.9 cents/minute to call both landlines and mobiles in Nigeria.
Besides calls to Nigeria and other destinations, TelephoneNigeria.com also offers online Mobile Recharge to Nigeria. In other words, mobile credit transfers to Nigeria from abroad. This only requires someone to fill in the online form on the website. The amount gets to the beneficiary in Nigeria instantly, and can be used according to the terms of the local operator: Etisalat, Airtel, Glo or MTN.
All TelephoneNigeria.com services are available in the same account, and no contract is required in order to use the service. Plus:
-The service guarantees 100% security; the website is "Certified & Verified."
-Customer Support is available 24/7 in several languages.
-All transactions and call records are available for the last 30 days and all invoices are stored in the online account.
-Regular promotions are announced on the Community Facebook page: https://www.facebook.com/TelephoneNigeria/
TelephoneNigeria.com is a mobile-friendly website dedicated to the Nigerian diaspora in the USA, Canada, Australia, Asia and Europe. The service is a brand of KeepCalling, a global telecommunications company registered in 2002 in the USA. Presently, KeepCalling provides its services to hundreds of thousands of consumers , with a focus on customer satisfaction and transparency of service. KeepCalling was listed by Inc 5000 as one of the fastest growing companies in the USA for 5 consecutive years.