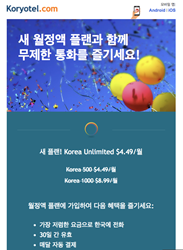 Excellent services! Highly recommend. (Won Lee)
Atlanta, Georgia (PRWEB) July 03, 2017
Koryotel.com, the platform dedicated to Koreans living abroad and all others who call Korea on a regular basis, launches a new calling plan with unlimited international minutes to South Korea for only $4.49 a month. For the moment, this is the best deal on the global market for this destination. The plan is flexible on multiple levels and the credit included can be used to call both landlines and mobiles in South Korea. More details are available on Koryotel.com.
South Korea Unlimited includes unlimited minutes to call South Korea landlines and mobiles for as low as the price of a cheeseburger or 4 songs on iTunes for example. The plan costs only $4.49 a month, and comes with free features for an optimised calling experience that resembles a local call: PINless Dialing, Speed Dial, etc.
To get a South Korea Unlimited international calling plan one needs to register on the Koryotel.com website, which can be done in seconds and costs nothing. This gives access to a 30-day call history and all transactions on Koryotel.com. Plus:
-No contract is needed to use the service
-Payment is possible in any currency according to the residence country of the owner, as well as any of the major cards, as well as PayPal.
-Security is 100% guaranteed thanks to the strongly built security system certified by "Verified & Secured" as proved by the label on the website.
There are 2 ways to call South Korea for those who decide to purchase South Korea Unlimited calling plan, whether they are new to Koryotel.com or shift from Voice Credit to a plan with more minutes and lower rates:
-Smartphone users have KeepCalling app available for free for their Android and iOS devices.
-Those who don't want to call using 3G, 4G or WiFi, can use an access number available for the region they live in.
The plan to call South Korea is more than flexible, it is extremely friendly. It can be canceled any time needed, and reactivated with no penalties whenever necessary. Plus, one benefits of 24/7 customer support and non-stop access to one's records in the online account on the website.
There are no extra fees besides the actual $4.49 a month. Koryotel.com keeps things transparent for its customers, from email communications to rates and promotions.
For those who do not want a monthly unlimited plan/ an unlimited monthly plan, but prefer evergreen credit that never expires, Koryotel.com makes available the Voice Credit service. The rate to make calls using this service is 1.5 cents/minute to landlines, and 2.9 cents/minute to call mobiles in South Korea. In other words, if one picks Vice/ Voice Credit instead of South Korea Unlimited, one gets to pay $2 for 133 minutes to landlines there, or 68 minutes to mobiles, or a mix.
Koryotel.com is a website dedicated to Koreans overseas and other people who need to communicate with South Korea. Koryotel.com is a brand of KeepCalling, an American company with more than 10 years of experience on the ethnic global market. The mother company is a telecommunications business registered in 2002 in the USA, listed by Inc 5000 as one of the fastest growing companies in the USA for 5 consecutive years. Presently, KeepCalling provides its services to hundreds of thousands of consumers, with a focus on customer satisfaction.