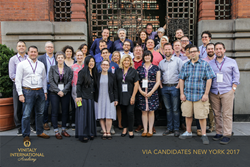 Representing the one and only opportunity for wine professionals to gain extensive knowledge on the vast subject of Italian grapes and wines, the Certification Course enables all professionals to speak of Italian wine in a unified and organized manner
(PRWEB) June 30, 2017
Vinitaly International Academy (VIA) successfully launched its first ever Certification Course in USA at Astor Center, in the heart of New York City. After a week of training followed by a final exam, VIA welcomes its new Italian Wine Ambassadors and Italian Wine Experts with a Pinning Ceremony which will be live streamed on Vinitaly International Facebook channel at 13:30 (EST).
Representing the one and only opportunity for wine professionals to gain extensive knowledge on the vast subject of Italian grapes and wines, the Certification Course enables all professionals to speak of Italian wine in a unified and organized manner, with true in-depth knowledge. Five days of intense classroom lectures and wine tastings were conducted by Dr. Ian D'Agata, author of Native Wine Grapes of Italy (winner of the 2015 Louis Roederer International Wine Book Awards as Book of the Year). D'Agata, who has been running the course since 2015, was joined also by Henry Davar, the neo-Italian Wine Expert that helped facilitate the course. "The focus of this course is not only just to learn about native grapes such as Fiano and Greco, but dig deep into the terroir of where those grapes are grown. These are subjects that haven't been covered prior to Ian's book, so we are breaking new grounds in the discourse of Italian grapes and wine. This brings the wine industry here to new levels of appreciation, that will result in gaining more Italian wine fans!" says Davar.
Candidates from across the USA took part in the course in order to leverage this opportunity of increasing their understanding of Italian wine. "It is an absolute thrill to learn from Ian D'Agata, the far most knowledgeable expert on Italian native grapes, as Italian wines are increasingly becoming recognized in the USA," says Enrico Contini, Purchase Manager at Vias Import. Katie Dinep, Associate Buyer at Total Wine & More, highlights the importance of the personal stories behind wine-making: "One thing that makes Italian wine very special for customers in the US is the fact that there is a lot of heart that goes behind the production of Italian wine, and customers here like a good story. VIA allows us to connect even more closely to these wines, which makes it easier for us to transmit to our customers."
During the pinning ceremony, the newly certified Ambassadors and Experts receive the Vinitaly International Academy official pin from founders Dr. D'Agata, and Stevie Kim. The pin takes the shape of a bottle of wine mounted in a laurel wreath which is a symbol of academic achievement. It is in silver for Ambassadors and gold for Experts. Facebook live streaming will reveal the names and faces of the new VIA Ambassadors and Experts, and will be the optimal way to experience the student's passion and commitment to discovering the uniqueness of Italian wines. The live streaming can simply be accessed by clicking on this link at 13:30 (EST): https://www.facebook.com/vinitalyinternational/.
After New York, newly-certified VIA wine specialists will be able to support VIA in teaching the courses around the world and broadcasting the excellence of Italian wines. Next VIA tour stops will be the Chinese cities of Shanghai and Beijing in September.
For more details about the candidates and the Certification Course see:
http://www.vinitalyinternational.com/vinitaly-international-academy/candidates
http://www.vinitalyinternational.com/images/via/next_course_2017.pdf
About:
Veronafiere is the leading organizer of trade shows in Italy including Vinitaly (http://www.vinitaly.com), the largest wine and spirits fair in the world. During its 51th edition Vinitaly counted more than 4,270 exhibitors on a 100,000+ square meter area and 128,000 visitors from 142 different countries with more than 30,000 top international buyers (up by 8%). The next edition of the fair will take place on 15 - 18 April 2018. The premier event to Vinitaly, OperaWine (http://www.operawine.it) "Finest Italian Wines: 100 Great Producers," will unite international wine professionals on April 14th in the heart of Verona, offering them the unique opportunity to discover and taste the wines of the 100 Best Italian Producers, as selected by Wine Spectator. Since 1998 Vinitaly International travels to several countries such as Russia, China, USA and Hong Kong thanks to its strategic arm abroad, Vinitaly International. In February 2014 Vinitaly International launched an educational project, the Vinitaly International Academy (VIA) with the aim of divulging and broadcasting the excellence and diversity of Italian wine around the globe. VIA this year launched the third edition of its Certification Course and today counts 79 Italian Wine Ambassadors and 7 Italian Wine Experts.