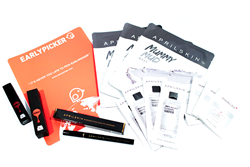 Best-selling K-Beauty at the cheapest price with a free sample pouch!
SEOUL, KOREA (PRWEB) July 05, 2017
Earlypicker is harnessing the power of the Internet and mass media to bring the hottest Korean cosmetic products to customers who are constantly on the hunt for low prices and total convenience. To turn those initial customers into repeat shoppers, Earlypicker is also currently offering a complimentary sample pouch of cosmetics products with any purchase of more than $20. Furthermore, the company that carries all of the hottest Korean beauty brands is also offering complimentary worldwide shipping on all purchases greater than $50.
How does Earlypicker know which products to carry and what the hottest trends are? Company officials are keeping their fingers on the pulse of Internet searches, social media activity and television segments that spotlight the newest items. Specifically, Earlypicker staffs are deliberately picking which brands to carry based off of the following criteria:

The most-searched brands on Korean search engine NAVER.
High-ranking brands as they appear on Korean beauty ranking websites.
Cosmetic brands that are featured on Korean television shows.
Favorable social media reviews of products and brands.
Rising stars with potential who are using Korean cosmetic products.
By visiting earlypicker.com to track down the hottest Korean beauty products, you are saving money while still getting your hands on sought-after cosmetics. Earlypicker customers are also sounding off, saying that this modernized approach to stocking shelves with the best Korean cosmetics is certainly paying off. According to ohmystellar.com, a fashion blog run by a professional freelance photographer, a 2017 review of Earlypicker products commends the company for the free pouch of K-Beauty products that arrived with her order.
"The really great thing that I wanted to share with you guys though, is their sample pouch! These samples actually do come in a literal pouch and when Earlypicker first told me (with a lot of enthusiasm) about how important this part is to their service, I was actually a little hesitant," the reviewer wrote. "However, they are definitely not kidding with this."
Reviews like this one that allows the dedicated staff at Earlypicker to feel proud of the services they offer. This is why they are touting the following motto: "Best-selling K-Beauty at the cheapest price with a free sample pouch!"
For more information about Earlypicker and a limited-time sale that is currently going on, contact Wooin Kim by calling +82-70-4667-4236 or via email at wooin1109(at)aprilskin.com.
About:
Earlypicker is the hottest and fastest beauty platform. The company offers speedy worldwide delivery of K-Beauty products and carries only the most popular cosmetics as determined by research-driven methodology. Visit earlypicker.com to see products that are presently available.