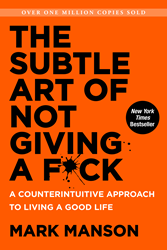 Over 1,000,000 Copies Sold
San Francisco, CA (PRWEB) July 10, 2017
Today HarperOne, an imprint of HarperCollins Publishers announced that THE SUBTLE ART OF NOT GIVING A F*CK by millennial blogger and author Mark Manson has surpassed one million copies sold worldwide in all formats within ten months of initial publication.
"THE SUBTLE ART OF NOT GIVING A F*CK: A Counterintuitive Approach to Living a Good Life" debuted on the New York Times bestseller list on October 2, 2016 where it has remained for #29 weeks and counting, currently at number one on the Advice, How-To & Miscellaneous list. Among the more than one million readers of this book are celebrities who have organically posted images of themselves with the book on their respective social media accounts, including Chelsea Handler, Chris Hemsworth, and Paris Hilton.
THE SUBTLE ART OF NOT GIVING A F*CK, first published on September 13, 2016 ($24.99 U.S. Hardcover; ISBN: 9780062457714), has been a success in every format. The U.S. eBook edition has sold more than 180,000 copies, and the audiobook held the #1 spot for weeks. Internationally it is a #1 bestseller in Canada, has breached the list of top bestselling non-fiction books in England, and is a #1 bestselling English-language title in Holland. It has sold well over 250,000 copies outside of the U.S., reaching readers in more than 130 countries.
"We were excited to publish 'The Subtle Art of Not Giving a F*ck' for its sophisticated and smart insight delivered in a truly unique voice. Mark Manson has written a generation-defining wisdom and advice book that has quickly become the standard-bearer for the genre," said Mark Tauber, Senior Vice President and Publisher of HarperOne.
"Times have changed, and the self-help genre needed to catch up. The same old positivity-laden message just doesn't cut it anymore and I think this book's success is a testament to that. People have wisened up and want something more gritty and honest, even if it hurts," said author Mark Manson.
Mark Manson is an author and blogger whose brand of "anti self-help" advice turns the traditional form on its head with an unapologetically direct style in which readers determine for themselves "which f*cks to give" and why. With chapter titles including "Don't Try," "You Are Not Special," and "…And Then You Die" Manson's core message is discovering what's important to us and equally important, what is not. Manson, 32, grew up in Austin, Texas, attended Boston University, and spent years traveling the world before moving to New York City where he has been blogging for the past 10 years at http://www.markmanson.net.
# # #
About HarperOne
HarperOne and its lines, including HarperElixir, publishes books that change lives, influence cultures, build bridges, and withstand the test of time.
Since 1977, HarperOne has striven to be the preeminent publisher of the most important books across the spectrum of religion, spirituality, health, personal growth, work/life balance, and social change literature, adding to the wealth of the world's wisdom by representing many and varied voices. HarperOne publishes primarily prescriptive and narrative non-fiction, and our authors and books are go-to authorities for readers, consumers, media, leaders, and instructors in all our categories.
About HarperCollins Publishers
HarperCollins Publishers is the second largest consumer book publisher in the world, with operations in 18 countries. With nearly two hundred years of history and more than 120 branded imprints around the world, HarperCollins publishes approximately 10,000 new books every year in 17 languages, and has a print and digital catalog of more than 200,000 titles. Writing across dozens of genres, HarperCollins authors include winners of the Nobel Prize, the Pulitzer Prize, the National Book Award, the Newbery and Caldecott Medals and the Man Booker Prize. HarperCollins, headquartered in New York, is a subsidiary of News Corp (NASDAQ: NWS, NWSA; ASX: NWS, NWSLV) and can be visited online at corporate.HC.com.