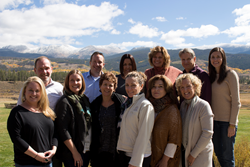 "Serving on the GSN Board is a remarkable opportunity during this dynamic period of GSN's growth," says Karen Short, SVP Universal Companies and GSN Board President. "It is a great opportunity to guide a leading non-profit and cause positive change."
Atlanta, GA (PRWEB) July 05, 2017
The Green Spa Network (GSN) Board of Directors seeks leaders in sustainability and wellness for open volunteer board positions.
Over the past 10 years, GSN has focused on developing a community of inspired and engaged individuals to advance its mission to promote the vital connections between personal wellbeing, economic sustainability and the health of our planet. GSN's membership base consists of +1,400 businesses and individuals dedicated to a future of global social and economic prosperity. The network is built on the concept that sustainability and well-being are closely related and activities are focused on generating the inspiration and insights needed to shift to more sustainable business practices.
Applications for GSN Board Service can be made through GSN's website and will be accepted through August 1, 2017. Successful candidates will begin their first 2-year term in December, 2017. For more information and to apply, visit http://www.greenspanetwork.org.
About Green Spa Network:
GSN is a non-profit trade association serving the spa industry in support of action for a sustainable future. Their mission is to promote the vital connections between personal wellbeing, economic sustainability and the health of our planet. Through networking, education, and best practices developed with a membership of the nation's most innovative green spas, GSN is a resource for vital people building a vital planet. http://www.greenspanetwork.org