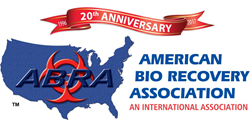 Washington, DC (PRWEB) July 03, 2017
ABRA, the international trade association for the crime and trauma scene cleaning industry, is inviting all interested persons to attend their 20th anniversary conference and trade show at the Embassy Suites by Hilton Hotel in beautiful Scottsdale Arizona on September 26th through 29th, 2017. As an added bonus, they are extending their early-bird registration discount until July 10th !
This year's speakers represent some of the leading experts in the following subjects: Biosafety & Infectious Disease Training; BioSurveilance and Emergency Preparedness; Leadership; Succession Planning; Advanced Disinfection Technologies and the use of B.I.s; Alternative BioRestoration Technologies; Decontamination Workshop/ Hazards & Risks of Fentanyl; and MORE.
Plus, you may also be eligible to challenge the ABRA International Certified BioRecovery Technician (CBRT) exam!
More information and registration is available through their website: http://www.americanbiorecovery.org