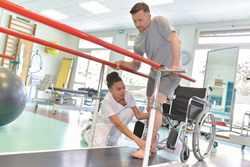 Unlike UV disinfection, this technology is safe for occupants, and it reaches places normal cleaning doesn't touch.
Kenosha, Wisconsin (PRWEB) June 30, 2017
Sometimes, environments meant to make us healthy can be an unintentional breeding ground for harmful bacteria, but now there is a safe, effective disinfection method that reduces the risk of hospital-acquired infections: Kenall's MedMaster™ healthcare luminaires using Indigo-Clean® Technology.
Kenall has incorporated Indigo-Clean technology into three sealed, MedMaster™ LED light fixtures-- the MPCADE, ME and AMB Series Luminaires. These luminaires combine white ambient light with 405nm Indigo light in order to kill harmful bacteria, including Staph*, such as MRSA**, and are part of a comprehensive portfolio of lighting products that Kenall has developed utilizing this exclusive and revolutionary new technology.
"Indigo-Clean technology has been tested in a laboratory setting and has been shown to kill harmful bacteria. This fixture allows healthcare facilities to install ambient lighting using on-demand disinfection in a budget-sensitive configuration," said Dr. Cliff Yahnke, PhD, Director of Clinical Affairs for Indigo-Clean. "Unlike UV disinfection, this technology is safe for occupants, and it reaches places normal cleaning doesn't touch," he continued. The luminaires are recommended for areas such as patient rooms, waiting rooms, public restrooms, physical therapy areas and locker rooms.
Frank Gonzales, Director of Product Management for Kenall, also remarked on the economic advantages of the new MedMaster Luminaires using Indigo-Clean Technology, "These provide solid lighting efficacy and disinfection at basically the same cost as a standard LED luminaire. They bolster current cleaning protocols by helping eliminate harmful bacteria in more generalized healthcare spaces."
Indigo-Clean technology uses a 405nm light to penetrate harmful bacteria, including MRSA. It targets naturally-occurring molecules within the bacteria to produce intra-cellular Reactive Oxygen Species (ROS). Similar to bleach, these ROS create an oxidative environment that kills the bacteria.
About Kenall
Kenall Manufacturing was founded in Chicago, Illinois in 1963 and has built a reputation for durable lighting solutions of superior quality and exceptional value. Today, the company focuses on the healthcare lighting market as well as creating unique solutions for the high abuse, transportation, food processing and correctional lighting markets. Kenall luminaires are designed and manufactured in the USA and meet the guidelines established under the Buy American Act and the North American Free Trade Agreement. For additional information, visit http://www.kenall.com.
*Antimicrobial Activity of a Continuous Visible Light Disinfection System by Rutala, et. al, ID Week 2016.
**per independent lab report #SGS-09516076094. Contact manufacturer for a copy of this report.