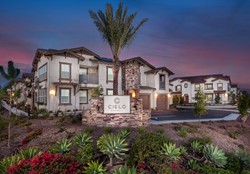 "Cielo Carmel is a sterling example of high quality housing that offers an affordable living option in a prime location." President James Silverwood
San Diego, CA (PRWEB) July 02, 2017
Cielo Carmel, an affordable community developed by Affirmed Housing, wins PCBC merit award for best affordable community. Home to 197 local families, the community offers one, two, and three-bedroom apartment homes for those who earn 50%-60% AMI.
Renting for $740-$1231 per month, Cielo Carmel offers outstanding homes for less than half the average rental price in the Carmel Valley neighborhood. Designed by Humphries & Partners Architects, the 100% occupied community is situated in the Carmel Valley community and provides residents affordable homes in an outstanding location. Local shopping center the Village at Pacific Highlands Ranch is less than one mile to the North, and highway 52 less than one mile to the South.
"Cielo Carmel is a sterling example of high quality housing that offers an affordable living option in a prime location." President James Silverwood
Cielo Carmel is financed with tax exempt bonds issued by the San Diego Housing Authority, R&V Corporation, Bank of America and Boston Capital.
Headquartered in San Diego, Affirmed Housing is dedicated to improving and sustaining the viability of California through the development of affordable housing. The company aims at enhancing communities and our environment by building professionally-managed, high-quality, green, multifamily, senior and homeless housing. For more information, visit http://www.affirmedhousing.com.
###