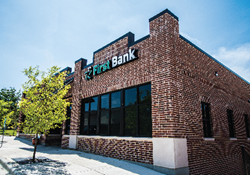 "We are thrilled to be part of the growing community of Prosper," said Chuck Miller, Sr. Vice President.
PLANO, TEXAS (PRWEB) July 07, 2017
First Bank continues to expand in the DFW opening their newest Prosper Branch to the public as of May 15th, 2017. They will host a grand opening event open to the public on July 13th from 4:00 pm to 7:00 pm at the new office location – 161 W. 3rd Street, 75078 Prosper, TX.
In the last 3 years, First Bank has helped more than 3,400 families achieve their dream of Home Ownership across the DFW further extending their reach with the opening of a new branch in Prosper, TX. First Bank offers all traditional home loans along with other non-traditional home loan products to help those individuals and families with more special case needs.
"We are thrilled to be part of the growing community of Prosper," said Chuck Miller, Sr. Vice President. "In addition to being able to offer Prosper a broad range of financial services, First Bank also plans on supporting the surrounding community in any way possible – staying true to our mantra."
First Bank will also offer commercial lending and depository services tailored to assist companies and business owners with their specific needs at the new Prosper location; led by the direction of Senior Vice President Lance Lair.
"We are pleased and excited to enter the Prosper market," said Lair. "First Bank has a 'Community First' model which fosters great partnerships with the community. We look forward to building banking relationships with the people and small businesses of Prosper."
The new Prosper branch will be the first one in the Dallas, Ft. Worth area to offer both mortgage and commercial banking services. The bank is open Monday through Friday from 9 am to 3 pm.
About First Bank
First Bank, the longest standing financial institution in Wichita Falls, Texas and a residential mortgage loan originator for over 25 years, has been helping serve families since 1907. Though founded in Wichita Falls, TX, First Bank is quickly growing to also serve the greater Dallas/Ft. Worth communities. First Bank was awarded Top Quality Lender from Wells Fargo for 2015 and many of its lenders consistently receive nominations for Five Star Professional and "Best of D Magazine" awards. First Bank has a passion for building strong relationships with their customers, business partners, and team members. In addition to their commercial banking solutions, they offer a broad variety of programs for home loans that can be tailored to the specific needs of each family. The programs range from Conventional, FHA, USDA, VA, their ever-helpful Bridge Loan, and many more programs. For more information about First Bank and how they can help you with your commercial banking needs, please visit their website at http://www.firstbankweb.com or for information about their home loans, visit http://www.firstbankhomeloans.com.