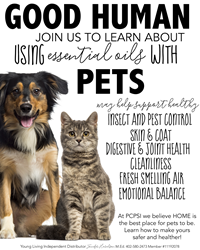 "We think all pet parents could benefit from learning about natural oils that could improve their pets' overall well-being, and possibly their own personal well-being as well." Joette White, Park Cities Pet Sitter
Dallas, Texas (PRWEB) July 05, 2017
Park Cities Pet Sitter has announced they will be hosting an "Essential Oils for Pets" class on Thursday, July 27th from 7:00-9:00pm. The class is open to the public, and will take place at the Park Cities Pet Sitter offices, located at 5831 McCommas Blvd in Dallas. Attending the class is free, though attendees must RSVP to reserve their seat. Essential oils will be available to purchase at the event if attendees are interested.
The class will be taught by Jennifer Haralson, M.Ed. from Lincoln, Nebraska. Haralson is an independent distributor for Young Living Essential Oils and also has owned a couple of different pet businesses in Nebraska. Haralson has long been a proponent of using natural remedies for both pets and humans versus chemical-based products whenever possible. In the July 27th class she will show Park Cities Pet Sitter's clients, staff and the general public ways to use essential oils to improve common pet concerns like digestive health, flea and tick prevention, anxiety and mood issues, joint health, repelling insects and skin/coat issues. Haralson will also discuss how essential oils can be used to simply improve overall pet cleanliness and smell.
Park Cities Pet Sitter's President, Joette White, believes that educating her clients and the general public on natural remedies for pets easily fits with her company's focus on "Home. Healthy. Happy." "We have provided in-home pet care for 25 years in this market because we believe pets are healthiest and happiest when they are in their home environment," says White. "As part of that core belief, we also are always looking for new and better ways to keep pets healthy and happy while in their home. We know intellectually that chemicals cannot be good for us or for our pets, but we often don't know of healthier alternatives to these products either. That is why we felt Jennifer Haralson could add a lot of value to our clients that are looking to make different or better decisions about the products they use in their home. We think all pet parents could benefit from learning about natural oils that could improve their pets' overall well-being, and possibly their own personal well-being as well."
Attendance at the Essential Oils for Pets class is free, but seating is limited so an RSVP is requested. All RSVPs and questions about the event should be sent to events(at)pcpsi(dot)com.
About Park Cities Pet Sitter: PCPSI has served the Dallas/Plano areas 7 days a week, 365 days a year since 1992, and was recently named the 2017 Business of the Year by the National Association of Professional Pet Sitters. Pet sitting, daily dog walks, pet taxis, overnight sitting, pet supply shopping and dog training are all part of the services PCPSI offers. Park Cities Pet Sitter is bonded and insured, and all sitters are employees--not independent contractors. A manager is on-call 24 hours a day to handle any emergencies. Go to http://www.pcpsi.com to learn more.