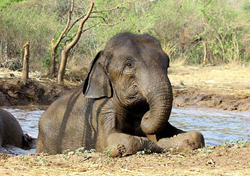 Mathura, India (PRWEB) July 04, 2017
Summer is rolling in India. And temperatures can exceed 120 Fahrenheit there — with humidity way up too! What's a 12,000-pound elephant to do? Well, if you're Peanut, Coconut, Suraj, or Raju — all of whom reside at the Wildlife SOS Elephant Conservation and Care Center (ECCC) in Mathura — you find some watery goodness and immerse yourself!
Peanut is one of the youngest elephants at the Wildlife SOS sanctuary. She was an orphaned baby when the center removed her from a circus. Coconut (simply "Coco" to her friends) is also very young, and quite inseparable from Peanut at the center. Suraj is an older gent at the ECCC, being 45, who was sadly confined to a small room for many decades as a temple elephant. Like the others, he now finds much comfort — and cool — in the drink.
"In the wilds, elephants really thrive in water," says Wildlife SOS Executive Director Nikki Sharp. "But these elephants were denied in captivity... they never really had access to it before they got to our sanctuary. The heartwarming thing is to see how quickly — even just hours after getting rescued — they find joy and comfort in taking a dip!"
All four of the elephants have adapted well to the relaxed pace at the Wildlife SOS sanctuary. And, like everyone else, they love spending some time in the water during the hot summer months. Here's to summer!
—30—
For more information, please contact Wildlife SOS USA Communication and Development Specialist John Pecorelli by telephone at 801 / 750-0301 or by email at john(at)wildlifesos(dot)org.
About Wildlife SOS: Wildlife SOS is one of the largest rescue and conservation charities in South Asia, operating 10 wildlife rehabilitation facilities across India, including the world's largest sloth bear rescue center and the recently established Elephant Conservation and Care Center, which is the first in India and currently houses more than two dozen rescued elephants. Wildlife SOS runs a tribal rehabilitation project that aims to create an alternative livelihood for poachers and other indigenous communities that once depended on wildlife for a livelihood. We also run a leopard rescue center, a wildlife hotline in New Delhi and Agra, and Forest Watch, which is an anti-poaching wildlife crime enforcement unit. More information about the organization can be found at http://www.wildlifesos.org. The U.S. branch of Wildlife SOS is based in Salt Lake City, Utah, and received 501(c)3 charity status in 2005.