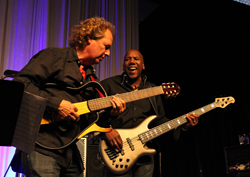 NASHVILLE, Tenn. (PRWEB) June 30, 2017
Yamaha Guitars is sponsoring Muriel Anderson's All Star Guitar Night Unplugged on the final night of this year's Summer NAMM Show, July 15, 2017. This will be the tenth year of Yamaha Guitars' involvement with this production. Co-sponsors of the event this year include Alvarez, GHS Strings, Guitar Player Magazine, NAMM, with a silent auction courtesy of Sam Ash Music.
All Star Guitar Night is a unique, guitar-centric event bringing some of the world's most talented artists together on stage to play to standing-room-only audiences. The event typically features artists with household names as well as up-and-coming musicians. Performers at this year's event will include Stanley Jordan, Laurence Juber, Jack Pearson, Michael Kelsey, Pat Bergeson, Dan Bankhurst, Brooks Robertson, Sasho Zver, Brad Davis, Muriel Anderson, Rob Ickes and Trey Hensley.
While the artists donate their time and talent, funds from sponsors and a silent auction courtesy of Sam Ash support Music for Life Alliance, a 501(c)(3) not-for-profit founded by Muriel Anderson. Music for Life Alliance provides disadvantaged children with access to instruments and music instruction in their schools. The organization also works with other non-profits distributing instruments, funds and research nationwide.
Muriel Anderson's All Star Guitar Night originated in 1993 as an informal get-together after the Chet Atkins Appreciation Society Convention and NAMM show, two simultaneous events which brought together some of the finest guitarists in the world. In an informal atmosphere, these artists sat around the pool playing music for each other and with each other. In that spirit, the tradition of All Star Guitar Night was born, and it has enjoyed resounding success in bringing that same talent in front of an audience.
Tickets for the Muriel Anderson All Star Guitar Night Unplugged, to be held 5-7pm CDT at 3rd and Lindsley in Nashville, are available online at http://4wrd.it/MURIEL2017TIX
The event will also be streaming live on the web at http://www.nmblive.com/murielanderson For more information about the Muriel Anderson All Star Guitar Night, visit http://4wrd.it/MURIEL2017
-END-
About Yamaha
Yamaha Corporation of America (YCA) is one of the largest subsidiaries of Yamaha Corporation, Japan and offers a full line of award-winning musical instruments, sound reinforcement, commercial installation and home entertainment products to the U.S. market. Products include: Yamaha acoustic, digital and hybrid pianos, portable keyboards, guitars, acoustic and electronic drums, band and orchestral instruments, marching percussion products, synthesizers, professional digital and analog audio equipment, Steinberg recording products and NEXO commercial audio products, as well as AV receivers, amplifiers, MusicCast wireless multiroom audio systems, Blu-ray/CD players, earphones, headphones, home-theater-in-a-box systems, sound bars and its exclusive line of Digital Sound Projectors. YCA markets innovative, finely crafted technology and entertainment products and musical instruments targeted to the hobbyist, education, worship, music, professional audio installation and consumer markets.
Contact:
Peter Giles/Giles Communications
(914) 798-7120 (pgiles(at)giles.com)