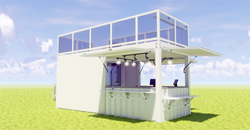 (PRWEB) July 05, 2017
Boxman Studios is proud to introduce Watering Hole, the newest shipping container bar in their Performance Product Line. Large, smooth panels, coupled with corrugate details give owners the industrial feel of a modified container while ensuring brand visibility and effortless cool-factor. Sporting a sizeable walk-in cooler and optional upper deck, customers can take in the view, while they wait for their brew.
"I am so proud of our team for identifying a need in the market place, and doing all the leg-work to realize the concept at a great price point," Said David Campbell, CEO Boxman Studios. "Watering Hole gives Food and Beverage businesses a new way of interacting with their customers."
The pre-engineered plans and value-engineered designs allow the Boxman Studios team to deliver the completed structure much faster than their custom work and at an optimal price point for entry-level businesses. Equipment packages and customization options available. For more information, or to receive a quote, go to http://info.boxmanstudios.com/watering-hole or call 704-333-3733.
Key Features

Key Features
20' x 10' footprint
Walk-in cooler
Mixed material finish (flat panels with corrugate accents)
Ecogrip floor
FRP walls
Three (3) awnings
Employees only entrance
Open-air work area
Technical Features

Three (3) Service areas for order-taking and serving
Three (3) awnings
One (1) TV screen for displaying menus or branded content
Track lighting
Three (3) Aluminum Counters
About Boxman Studios
Boxman Studios is the industry leader for high-quality, high-finish kinetic architecture. Utilizing modified shipping containers, and purpose-built structures, the company designs, develops, and deploys custom-built structures for food service, retail, and experiential marketing. Since it's inception, Boxman Studios has created remarkable experiences for clients including Chick-fil-a, Google, adidas, Facebook, BMW, TaylorMade, Lays, Muscle Milk, and Oreo. http://www.boxmanstudios.com