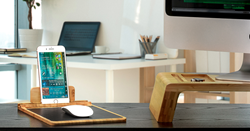 "We designed and built this mouse pad because we saw a real need in the office accessories market for a solid option made with premium materials rather than cheap chipboard or fake wood finishing." - Perry Solomon, Prosumer's Choice President & Founder
Los Angeles, CA (PRWEB) July 03, 2017
Prosumer's Choice brand unveils new genuine Bamboo Mouse Pad equipped with a Smartphone or Tablet stand for students, offices, and home offices. Available for $29.99 on the Prosumer's Choice website at https://prosume.rs/2BambooMousepad as well as on Amazon at https://prosume.rs/2Amazonmousepad the mouse pad features 100% natural Bamboo with a detachable stand that holds iPhones, Android Smartphones, iPads, Samsung Galaxy, and other Android tablets. The mouse pad is the latest addition to the Prosumer's Choice line of eco-friendly Bamboo products.
Unlike alternatives with faux grain finishes, the Prosumer's Choice multi-functional mouse pad is made with real Bamboo, which is considered a super renewable, sustainable resource. The Bamboo surface adds durability, naturally resists moisture, and can be wiped clean with a damp or wet cloth. No-slip rubber feet on the bottom of the mouse pad ensure stability as the user works. The smooth coated rubber area for operating the mouse offers a surface optimized for reduced friction that works with all types of computer mice, including wired, wireless, and laser-based models.
"This Bamboo mouse pad is a cut above the competition," says Perry Solomon, Prosumer's Choice President and Founder. "We designed and built this mouse pad because we saw a real need in the office accessories market for a solid option made with premium materials rather than cheap chipboard or fake wood finishing."
The mouse pad functions as a compact desk organizer to keep small office necessities within reach. The detachable device holder securely fits a Smartphone or Tablet so the device stays in place instead of getting lost on a desk. The Bamboo tray also has space for pens, pencils, or USB drives. Its space-saving design makes the mouse pad ideal for cubicles and other cramped work environments. The multi-use mouse pad requires no assembly out of the box, which makes it an excellent gift for college students getting ready to move into campus dorms this fall.
"We released this product just in time for the Back to School shopping season for a reason," states Solomon. "I consider our Bamboo mouse pad to be a must have dorm room accessory as the surface is large enough for both gaming and studying."
To learn more about the Prosumer's Choice Bamboo mouse pad with Smartphone/Tablet holder and other exclusive Bamboo products, please visit http://www.prosumerschoice.com/bamboo.html.
About Prosumer's Choice
California-based and family-owned Prosumer's Choice designs, develops, and builds unique and convenient products for the home, outdoors, office, auto, and travel. Embracing eco-friendly and socially responsible initiatives is a key component of Prosumer's Choice business ethics, and Prosumer's Choice educates its supply-chain on the benefits of the Business Social Compliance Initiative (BSCI) Monitoring System. A significant amount of Prosumer's Choice's line of bamboo products are certified by the Forest Stewardship Council® (FSC®) that the material comes from responsibly-managed forests. For more information, please visit http://www.prosumerschoice.com or contact us toll free at 866-888-8776.