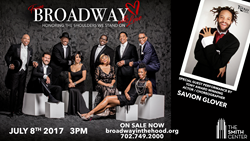 I was able to get sneak peak of one of the songs they are performing and I was blown away!
Las Vegas, NV (PRWEB) July 05, 2017
Broadway entertainers from around the world come together in Las Vegas to honor the legacy of great African-American entertainers with their upcoming benefit concert From Broadway With Love: Honoring The Shoulders We Stand On July 8 at the beautiful Smith Center! Featuring 20 international guest performers from Broadway in the H.O.O.D Canada, Broadway in the H.O.O.D Virginia, and 300+ local actors, singers, dancers, and musicians.
 
From Broadway With Love: Honoring the Shoulders We Stand On includes a star-studded cast that includes 4 Tony Award winning performers, 8 Grammy Award recipients and a special tribute performance by the "world's greatest tap dancer" Savion Glover! Stars such as Anthony Wayne of Pippin and Anything Goes, Moya Angela of Dreamgirls, Travis Cloer of Jersey Boys and triple-threat Anika Ellis-Mungin from Aida and The Color Purple who also provided vocals for KC & The Sunshine Band. Other performers set to appear include Merald "Bubba" Knight, Deniece Williams, Clint Holmes, Earl Turner, and Antonio Fargas. Performances will encompass a vast array of sensational Broadway musical hits from The Wiz, The Lion King, Hamilton, CATS, The Color Purple and many many more.
"I could not be more excited to see my daughter and all her friends perform on the same stage with Broadway greats. They have been working so hard these past few months and it is is truly a dream come true for them thanks to the Broadway in The H.O.O.D. team. I was able to get sneak peak of one of the songs they are performing and I was blown away!" gushed Anna Tieri, Human Resources Manager of Koster Finance.
 
In fact, Anna Tieri became so determined to help out Broadway in the H.O.O.D. that she asked her Director of Operations, Jason Queen, to hang posters for the benefit concert event in every single one of their 13 Las Vegas area locations.
 
Besides her love for Broadway performances, Anna has a good reason for her enthusiasm, "My daughter, Aniya, has just started with Broadway in The H.O.O.D. just this year, and the experience has been incredibly rewarding for her."
 
Come support our local youth and witness the once-in-a-lifetime experience that brings together some of your favorite hit songs and legendary performers under one roof for one night only! The concert will be held on Saturday, July 8, 2017. Tickets start at just $19! You can purchase yours now by visiting http://www.broadwayinthehood.org or by reaching The Smith Center box office.
Broadway in the H.O.O.D. is a 501c3 national organization dedicated to making a positive impact in communities by providing opportunities for aspiring actors, singers and dancers from the young to the young at heart, who have always dreamed of being in their own spotlight. Participation is free, making programs accessible to anyone in the community who has an interest. Participants have the chance to show off their latent talents to audiences during their 2017-2018 residency at The Smith Center in Downtown Las Vegas. This year's Broadway in the H.O.O.D. performance calendar includes performances of Disney's The Jungle Book on September 8-10, as well as A Raisin in the Sun and Moulin Rouge and All That Jazz to be performed in early 2018.
About Koster's Cash Loans
 
Koster's Cash Loans is a locally based Las Vegas lender providing no-hassle cash advances and loans to Clark County residents through their 13 convenient locations. You can learn more about their services by calling 702-641-1777.