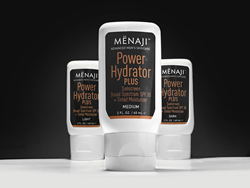 NEW YORK, NEW YORK (PRWEB) July 05, 2017
POWER HYDRATOR PLUS SPF 30, MENAJI Advanced Men's Skincare's bold new entry into the men's beauty arena, reinforces the idea that it still dominates by introducing an everyday, multifunctional tinted skincare product with masculine appeal.
Like its predecessor, MENAJI's POWER HYDRATOR Aftershave, POWER HYDRATOR PLUS is a lightweight multi-purpose aftershave moisturizer that hydrates using both natural anti-oxidant botanicals such as Chamomile, Vitamin E and Green Tea, with soothing organic Aloe Vera to soften and brighten dull skin. Both are finished with refreshing grapefruit peel to make the skin feel invigorated. But the new POWER HYDRATOR PLUS levels up with sheer color and paired with strong UVA-blocking anti-cancer sunscreen to create a high performance tinted moisturizer for men.
"Our world is complex. This simplifies your morning routine and protects your most valuable asset: your face," says MENAJI President Pamela Viglielmo. For years, MENAJI has introduced innovative products for men to constantly enhance the quality of their lives and their natural, masculine beauty. This product addition will anchor MENAJI Skincare firmly in the athleisure product category as well. The rich, new formula, loaded with soothing botanicals, is making its debut as more and more active men look for genderless products in makeup, sunscreen and moisturizers.
Features & Benefits:
-Evens out skin tone
-Smooths wrinkles
-Lightweight for all-day wear
-Easy to use non-messy formula
-Won't clog pores
-Moisturizes
-SPF 30
-Soothing botanical-based formula for healthy coverage
-Convenient 2 FL OZ. formula is multifunctional sheer tint, moisturizer and sunscreen all in one.
POWER HYDRATOR PLUS SPF 30 retails for $42.00, is made in the USA and available online at http://www.menaji.com and participating retailers nationwide.
About MENAJI
MENAJI Advanced Men's Skincare is a world-class men's grooming brand, specializing in fast-acting products for shave and skin plus corrective cosmetics made with natural botanicals. MENAJI provides the ideal regimen for men with problem-solving solutions that break the mold. MENAJI is Made in the USA and sold in America and overseas in more than 20 countries.
For more information visit http://www.menaji.com, or follow MENAJI @MenajiSkincare on Twitter, @menaji_skincare on Instagram or Menaji Men's Skincare on Facebook. Or contact media(at)menaji(dot)com.