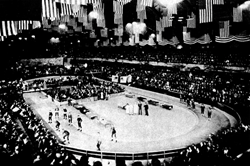 One of only three major sports invented in the United States, roller derby has inspired generations of athletes and fans. Currently, almost 2000 women's, men's and junior leagues are skating, competing and giving back to their communities worldwide.
Chicago, Illinois (PRWEB) July 03, 2017
Athletes from across the Midwest will kick-off World Roller Derby Week on the 82nd anniversary of Chicagoan Leo Seltzer presenting his creation, Roller Derby, at the Chicago Coliseum Aug. 13, 1935. The inaugural World Roller Derby Week will include a public birthday celebration, a retro roller derby game played with the rules and uniforms of the 1970s, and a donor campaign for a national roller derby blood drive. One of only three major sports invented in the United States, roller derby has inspired generations of athletes and fans. Currently, almost 2000 women's, men's and junior leagues are skating, competing and giving back to their communities worldwide.
"We want to look back at our roots, pay respect to its founding members and to the city of Chicago, to celebrate our beginnings and progress, and give back to the community through service. The roller derby story should be shared broadly as we look to our future in our juniors, who will no doubt carry us further than we could ever imagine," said Cheryl Cryer, organizer of World Roller Derby Week.
The kick-off event for World Roller Derby Week will be a public Roller Derby Birthday event Aug. 13 from 12:30-2 p.m. at the place where the sport was invented, Coliseum Park, 1513 South Wabash. Athletes from roller derby organizations across Chicagoland will be invited to skate in uniform, while junior skaters will serve birthday cake. Donor registrations for "First Blood," a roller derby themed blood drive will be part of the celebration.
A commemorative roller derby double-header game played under the 1970s rules and the classic uniforms of the Midwest Pioneers and the Chicago Westerners, and a Junior Roller Derby game under the most modern rules will be the highlight of the celebration, Aug. 19 from 2-6 p.m. at Fleetwood Roller Rink, 7231 W Archer Ave, Summit, Illinois. A limited number of tickets are available online through World Roller Derby Week partner Brown Paper Tickets at http://timehop2017.bpt.me/
Brown Paper Tickets, now in its 17th year, has helped thousands of event organizers in the Chicago area and in 68 countries worldwide to plan, promote and sell tickets to events. The Not-Just-For-Profit company is a favorite for roller derby league organizers who have made it the most popular ticketing partner for roller derby events. Brown Paper Tickets has recently opened a Midwest headquarters at Twenty One Twelve (2112), Chicago's first incubator focused on the development of business and entrepreneurs in music, film/video and creative technology. For the past 4 years Brown Paper Tickets has been partnering with roller derby and with the American Red Cross, producing a series of roller derby blood drives from coast-to-coast that has collected more than 900 units of blood over the past 4 years - enough to have helped save up to 2,700 lives.
World Roller Derby Week will join in that effort to save lives by with signing up donors to give blood at the First Blood roller derby blood drive, Sunday, Oct. 29 at the American Red Cross of Chicago & Northern Illinois, 2200 West Harrison Street from 10 a.m. to 3 p.m. Like other blood drives in the national series, derby athletes at the event will offer autographs, photo opportunities, and other promotional give-a-ways to attract donors, a formula that has made these themed community service events from coast to coast the most popular blood drives of the year in many of the cities where they are hosted.
To register to donate blood and save a life, go to http://www.redcrossblood.org and enter sponsor code "Derby."
Follow the Time Hop event at #TimeHop2017 and the roller derby blood drives at #makeembleed and #firstblood. Any roller derby league wishing to bring the roller derby blood drive series to their hometown should email organizers at derbyblooddrive(at)gmail(dot)com
EDITOR'S NOTE: In-studio or telephone interviews with your local roller derby league and all people quoted in this story, along with high-resolution photos, video and more are available. Contact Barb Morgen at derbyblooddrive(at)gmail(dot)com or at 206.785.9104 for assistance in getting what you need to build your story.
About the American Red Cross:
American Red Cross shelters, feeds and provides emotional support to victims of disasters; supplies about 40 percent of the nation's blood; teaches skills that save lives; provides international humanitarian aid; and supports military members and their families. The Red Cross is a not-for-profit organization that depends on volunteers and the generosity of the American public to perform its mission. For more information, please visit redcross.org.
About Brown Paper Tickets:
Brown Paper Tickets (brownpapertickets.com) provides easy, reliable online event registration and ticketing with the lowest fee, the highest level of service, and the largest commitment to roller derby and to social responsibility in the ticketing industry. The ticketing company donates 5 percent of the profits from every ticket sold, pays employees to work 40 hours each year for the cause of their choice, and employs a team of experts in roller derby to give free assistance, and to help the sport grow and thrive.

All giveaway items are provided while supplies last.