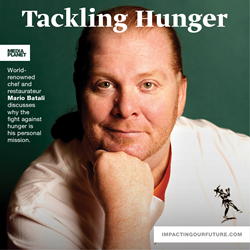 New York, NY (PRWEB) July 03, 2017
With the help of Wells of Life, Feeding America, Chef Mario Batali, World Food Program USA and more Tackling Hunger aims to educate readers about the many factors that contribute to the issue of world hunger and celebrate the organizations that are helping reduce the number of people suffering.
Every 21 seconds a child dies from contaminated water. This troubling statistic is part of what drives Wells of Life to provide those in developing countries with clean drinking water. Wells of Life aims to bring clean drinking water to 1 million people in Uganda by ultimately building 1,000 wells. The message behind Wells of Life is that water is a basic human right and their dedicated group of volunteers have seen that, by providing these communities with clean water, there have been significant steps toward sustainable living, decreases in water-born illnesses, and a 50% decrease in infant-mortality.
About 40% of the world's population lives in areas of water scarcity and there is a direct connection between lack of clean water and hunger. A lack of access to clean water means a lack of ability to produce crops. Each person needs about 2.5 liters of water per day and, to put this in perspective, in order to produce enough food for one person for one day you would need 2,000 to 5,000 liters of water. Founder Nick Jordan wants Wells of Life to unite all people across different religious, economic, and social backgrounds for the cause of providing people with the basic necessity of clean water. As a former school teacher, the social impacts of water scarcity in developing countries forced Jordan to take action.
"I saw the effects as I travelled across Uganda… most visibly in the daily suffering of women," says Jordan. "I saw the missing spaces in each classroom as girls were unable to attend school due to joining the multi-generational cycle of Poverty brought to their door by lack of access to water." A Wells of Life well delivers clean water to a community for 25 years and each well that they build provides a new and better life for countless people across these areas. If you are interested in getting involved or learning more please visit http://www.wellsoflife.org.
About Mediaplanet:
Mediaplanet specializes in the creation of content marketing campaigns released through multimedia platforms. We provide our readers with insightful and educational editorial in the fields of their interest, designed to motivate them to take action. Our unique ability to pair the right leaders, with the right readers, through the right platforms, has made Mediaplanet into a global powerhouse in content marketing. We continue to explore and expand our network of partners and clients through the shared interest of providing our readers the best experience possible.
Wells of Life Press Contact:
Nick Jordan, Founder and Executive Director 
949-584-6166
nick(at)wellsoflife(dot)org
Mediaplanet Press Contact: 
Vanessa Rodriguez
(646) 922-1408 
vanessa.rodriguez(at)mediaplanet(dot)com