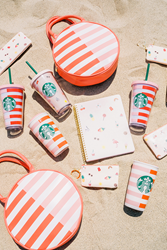 Los Angeles, CA (PRWEB) July 03, 2017
Get ready for even more summer fun with ban.do and Starbucks. Coming off of their successful launch in May, the lifestyle brand that's serious about fun and coffee giant will release a second limited edition collection of drinkware and accessories. And just like last time, it's exclusive to Starbucks, packed with feel-good vibes, and is only available in select Starbucks® locations in Asia Pacific.
The first ban.do x Starbucks® summer collection went viral around the globe with thousands of customers buzzing over the co-brand on social media. In some markets the collection sold through 75% in-stores within the first day, and generated serious excitement within the media. To engage and reward American fans, ban.do hosted a giveaway to win the coveted collection which generated over 26,000 entries from domestic fans who were eager to get their hands on it.
"The success of our first collaboration with Starbucks was everything we'd hoped for," said Lana Hansen, Chief Operating Officer at ban.do. "The customer response reaffirmed that the desire to have fun in the summer is a global phenomenon—which is great because it's something we're constantly building upon."
The upcoming 8-piece collection will feature two new prints—beach stripe, a retro color block print, and summer icons, a pattern featuring a mix of items that nod to both brands' idea of a fun day in the sun (Frappuccinos™! roller skates! really cute sunglasses!).
"We're thrilled by customers' response to Starbucks first regional collaboration with ban.do across Asia," said Michele Waits, vp Marketing & Category, Starbucks Coffee Asia Pacific Limited. "Today, we're delighted to offer a fresh new set of exclusive merchandise which invokes a youthful spirit of eclectic fun. Invigorated by summer, this playful collection celebrates positive vibes and individuality."
The collection will launch July 4th exclusively at select Starbucks® locations in Australia, Indonesia, Singapore, Thailand, Hong Kong, Vietnam, Cambodia, Taiwan, and China. But wait! ban.do is set to host a second giveaway for fans of the brand. And given the success of the partnership, the brands already have plans to work together in the (very near) future. For more information on the release, please contact meghan(at)bando.com
about ban.do
Founded in 2008, ban.do is a lifestyle brand based in sunny Los Angeles that designs clothes, accessories, bags, stationery, gifts, and tech. Their products can be found globally in over 3,000 department stores and boutiques, as well as online at bando.com. They're inspired by self-expression, the power of friendship, and all things FUN.