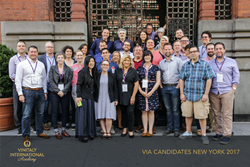 "I'm so honored to have taken this class and exam. One of the most challenging and enlightening wine educations experiences of my career. " Jeffrey Porter, Beverage Operations Director at Batali and Bastianich Hospitality Group.
(PRWEB) July 04, 2017
Vinitaly International Academy (VIA) successfully launched its first ever Certification Course in USA at Astor Center, in the heart of New York City. After a week of training followed by a final exam held on June 30th, VIA welcomed its 13 new Italian Wine Ambassadors (IWAs).
Representing the one and only opportunity for wine professionals to gain extensive knowledge on the vast subject of Italian grapes and wines, the Certification Course enables all professionals to speak of Italian wine in a unified and organized manner, with true in-depth knowledge. Five days of intense classroom lectures and wine tastings were conducted by Dr. Ian D'Agata, author of Native Wine Grapes of Italy (winner of the 2015 Louis Roederer International Wine Book Awards as Book of the Year). D'Agata, who has been running the course since 2015, was joined by Henry Davar, an Italian Wine Expert (IWE); a title given to those who reached the highest rank, who helped facilitate the course.
"The focus of this course is not only just to learn about native grapes such as Fiano and Greco, but dig deep into the terroir of where those grapes are grown. These are subjects that haven't been fully covered prior to Ian's book, so we are breaking new grounds in the discourse of Italian grapes and wine. This brings the wine industry here to new levels of appreciation, that will result in gaining more Italian wine fans!" says Davar.
Candidates from across the USA took part in the course in order to leverage this opportunity of increasing their understanding of Italian wine. "I'm so honored to have taken this class and exam. One of the most challenging and enlightening wine educations experiences of my career. I look forward to study more and to pass the Expert level!", says Jeffrey Porter, Beverage Operations Director at Batali and Bastianich Hospitality Group. Diane Heck, Importer of Italian Wines at Southport Wines, highlights the importance of building a great community of Italian wine professionals in the USA: "It was a thrilling week, almost magical. Ian showed us a new realm and appreciation for native grapes. I am looking forward to staying in touch with the great community of Italian wine professionals."
At the end of the course, VIA welcomed 13 new IWAs (See entire list below), bringing the count for IWAs to 99, 7 of which are IWEs. Mike Madaio, editor of Palate Press finished first place among the candidates, scoring 86 points out of 100. Newly-certified IWAs and IWEs, will be able to support VIA in teaching the courses around the world and broadcasting the excellence of Italian wines.
"A special thank you goes to ICE, the Italian Trade Agency and the Ministry of Economic Development for having supported and financed this first edition of the Certification Course in the USA and having believed in the essence of spreading the knowledge of Italian wine to the rest of the world." expresses Stevie Kim, the Founder of Vinitaly International Academy. "2017 is a pivotal year in the life of VIA. The Certification Course will be held also for the first time in the Chinese cities of Shanghai and Beijing in September. In addition, VIA plans to roll out its first entry-level Italian wine course for the public, the 'Italian Wine Maestro' level, allowing all wine lovers and non-professionals to become more knowledgeable about one of the world's most fascinating, if at times complex, wine cultures."
It is not by chance that after three editions in Italy, the first two countries to hold the courses is USA, today's largest market for Italian wines, and China, the market of tomorrow. Currently, VIA is home to 2 IWEs and 32 IWAs from USA, and 2 IWEs and 16 IWAs from the Greater China area. "With each additional IWA, VIA looks to further expand its Italian Wine community all around the world, and I must say so far it's looking pretty promising", confirms Kim.
Full list of our 13 newly certified Italian Wine Ambassador NYC Edition 2017
Mike Madaio, Editor at Palate Press
Jeffrey Porter, Beverage Operations Director at Batali and Bastianich Hospitality Group
Juan Lizarraga, Beverage Director at Ferraro's Italian Restaurant & Wine Bar
Christopher Miller, Sales Manager at San Francisco Wine School
Susan Gordon, Wine Journalist, Contributor to ForbesLife and The Daily Meal
Kirk Peterson, Beverage Director at Batali and Bastianich Hospitality Group,
Ciro Pirone, Director of Italian Wines, Horizon Beverage Company
Jennifer Schmelzer, Owner and Managing Partner in Wine Business of One Green Liner Fuoristrada Wines
Jared Fischer, Beverage Manager at Locanda Verde
John Irwin, Wine Sales at LUX Wines
Enrico Contini, Purchase and Traffic Manager at VIAS Import
Emilia Aiello, Wine Director at Batali and Bastianich Hospitality Group
Michael Reale, Italian Wine Sales Representative at Grapes and Greens
For more details about the VIA Certification Course and the Ambassador's BIO see:
http://www.vinitalyinternational.com/vinitaly-international-academy/candidates
http://www.vinitalyinternational.com/images/via/next_course_2017.pdf
About:
Veronafiere is the leading organizer of trade shows in Italy including Vinitaly (http://www.vinitaly.com), the largest wine and spirits fair in the world. During its 51th edition Vinitaly counted more than 4,270 exhibitors on a 100,000+ square meter area and 128,000 visitors from 142 different countries with more than 30,000 top international buyers (up by 8%). The next edition of the fair will take place on 15 - 18 April 2018. The premier event to Vinitaly, OperaWine (http://www.operawine.it) "Finest Italian Wines: 100 Great Producers," will unite international wine professionals on April 14th in the heart of Verona, offering them the unique opportunity to discover and taste the wines of the 100 Best Italian Producers, as selected by Wine Spectator. Since 1998 Vinitaly International travels to several countries such as Russia, China, USA and Hong Kong thanks to its strategic arm abroad, Vinitaly International. In February 2014 Vinitaly International launched an educational project, the Vinitaly International Academy (VIA) with the aim of divulging and broadcasting the excellence and diversity of Italian wine around the globe. VIA this year launched the third edition of its Certification Course and today counts 92 Italian Wine Ambassadors and 7 Italian Wine Experts.