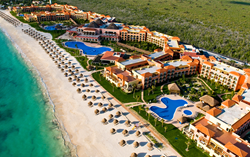 Cancún, Q.Roo. México July 5th 2017 (PRWEB) July 05, 2017
"We are proud to be affiliated with this prestigious group of hotels that embodies the same vacation values we offer all guests at Ocean Coral & Turquesa and at all Ocean by H10 Hotels," said Oscar Serrano, Vice President Sales & Marketing.
"We are looking forward to the new and promising partnership in Mexico and are delighted to expand the COOEE brand in the popular touristic region of the Caribbean," said Christian Grage, CEO of the hospitality unit of DER Touristik with its 85 global resorts, including the lti hotel Brand, Club Calimera, Prima Sol hotels and fast growing lifestyle COOEE Brand.
According to DER Touristik, communication and connectivity are key topics of all COOEE hotels in the exclusive group, with free high speed Internet offered in every room. Ocean Coral & Turquesa has offered complimentary Internet in all 591 guest rooms and public areas since 2015.
Other characteristics of COOEE Hotels include a COOEE bistro with a fresh and tasty F&B concept, as well as diverse sporting and recreational options. At Ocean Coral & Turquesa, guests may choose from eight themed a la carte restaurants, as well as four snack and beverage bars. Recreational activities include a full-service Despacio Spa Centre, Dive It diving center and day and night entertainment programs featuring beach activities and volleyball, tennis, windsurfing, sailing, kayaks and more. Finally, relaxing "chill-out" areas fulfill the COOEE promise.
Guests at Ocean Coral & Turquesa enjoy all-inclusive vacation stays featuring all meals, drinks, including alcoholic beverages, organized activities and entertainment. A free children's Mini Club Daisy and Teens Club facilities are also available.
About Ocean by H10
Ocean by H10 Hotels was founded in 2007 as a joint venture between Spain-based H10 Hotels and Vacances Air Transat, a leading Canadian tour operator and charter carrier. The company currently operates resorts in Mexico, the Dominican Republic and Cuba.
The brand's All-Inclusive resorts include Ocean Coral & Turquesa, Ocean Maya Royale and Ocean Riviera Paradise in Cancun and Riviera Maya, Mexico; Ocean Blue & Sand in Punta Cana, Dominican Republic; Ocean Varadero El Patriarca and Ocean Vista Azul in Varadero; and Ocean Casa del Mar in Cayo Santa Maria.
Privileged beachfront locations, close proximity to gateway airports, a la carte restaurants and a unique "All-Inclusive 24 hours" identity truly characterize the Ocean by H10 Hotels brand.