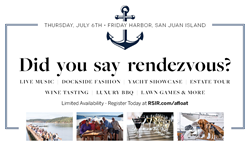 Seattle, WA (PRWEB) July 03, 2017
Realogics Sotheby's International Realty (RSIR), the exclusive listing broker for Rock & Roll Hall of Famer's $14.8 million Friday Harbor Estate on San Juan Island announced today this exclusive property will be the host property for a luxury lifestyle showcase on July 6th from 12pm to 5pm. Prospective buyers and invited guests attending the yacht rendezvous will be invited to tour the shy 39-acre compound, which includes an 11,686-sq. ft. home along with a yacht showcase by Ocean Alexander. The promotion is targeting the bounty of affluent families and yacht owners that frequent the San Juan Islands during the 4th of July celebrations that pack Roche Harbor Resort, Friday Harbor and the surrounding islands.
"Our rendezvous will provide a fun and well-timed opportunity to explore the ultimate lifestyle that is possible in the San Juan Islands," said Mary Norris, a Global Real Estate Advisor with RSIR and the listing broker for Friday Harbor Estate. "It's easy to see why Mr. Miller built this exceptional estate here – it's far from lights and cameras of his rock & roll career – yet it's so close to global gateway cities. He created a private sanctuary unlike any other and it's now being offered for a new family to own its legacy."
Norris suggests the estate is a relative bargain considering the replacement costs would likely exceed the current asking price, assuming you could acquire the land. She notes a recent Wall Street Journal (WSJ) article claiming the San Juan Islands are the "Hottest Luxury-Home Market in the Country" on data from Realtor.com as the priciest 10-percent of the area's real estate market rose faster last year than any other county in the US.
In an exclusive interview with WSJ, Steve Miller said "The essence or soul of my music is the inspiration I feel living in America. And the home I built above Friday Harbor is another expression of my soul with precision craftsmanship, authentic materials and a passion for what's beautiful in life."
Friday Harbor Estate was noted by Ocean Home Magazine among the "Top 20 Coastal Homes" in 2016 and has been revered by global media for good reason. The main house is gently perched atop a rocky hilltop for privacy yet remains an entertainer's dream with voluminous living spaces framed in clear Fir and massive sliding doors on three elevations that seamlessly connect interior and exterior environment in one of the most beautiful regions in the world. The estate also includes one of the most envied superyacht moorage facilities nestled in the protected bay of Friday Harbor. The 110-foot long, deep water dock is connected to the island by a 360-foot causeway. It is here where Mr. Miller kept his yacht, ABRACADABRA, when he was in residence.
Prospective buyers wishing to preview the property are encouraged to visit the dedicated website at http://www.FridayHarborEstate.com.
During the planned rendezvous on July 6th the dock will be home to a luxury motor yacht showcase by Ocean Alexander. The leading manufacturer cites success promoting their latest lines and select resale vessels during the holiday week in nearby Roche Harbor.
"This is a great opportunity to display a yacht in residence and complete the island lifestyle experience," said Niel Steenkamp, a broker with Alexander Marine USA. "It's actually quite common to meet new owners of our yachts whether they are walking the docks in Roche Harbor or joining us as a guest at private events like this. We're proud to partner with RSIR on yet another showcase."
Steenkamp suggests the Pacific Northwest is a mecca for yachting, not just because the protected waterways are beautiful but because Washington residents pay no state income tax, helping to make yacht ownership more affordable while they qualify as second homes for mortgage interest tax deductions. This is particularly attractive to current residents of California, which has one of the highest combined tax rates in the US. Norris suggests that for some high-income earners, the collective tax savings alone could very well pay for a luxury yacht while spending the majority of the year in Friday Harbor and wintering back in California.
"I think our buyer will be another family legacy in the making from the Pacific Northwest or perhaps a tech titan from the Bay Area seeking to escape the city and the taxes," adds Norris. "In any case, it's compelling to acquire this type of asset that's move-in ready, rather than investing the year and countless millions to build – for our buyer the value of time is a major consideration. A new owner could very well enjoy this lifestyle this summer, yacht and all."
In addition to the real estate and yacht tours, guests will enjoy fine wine and food pairings by DeLille Cellars, acoustical music by Orcas Island native Robbie Christmas, dockside fashion by Annette Dresser of J. Hilburn and lawn games by the bay.
"This is my happy place, for sure" said Greg Lill, CEO and Co-Founder of DeLille Cellars, a property owner on San Juan Island who will be offering wine tastings during the rendezvous. "We've been celebrating the 4th of July here for many years and we hope this event will inspire new families to discover why this region has become so popular."
Invited guests will be welcomed by land, sea and air. Special arrangements to accommodate larger vessels require advance registration. For more information, visit here. Guest registration is required.
###
About Realogics Sotheby's International Realty (http://www.RSIR.com) - Realogics Sotheby's International Realty is a leading global sales and marketing brokerage firm in the Pacific Northwest. Recognized by the Puget Sound Business Journal amongst the fastest-growing private companies in Washington State for 2012, 2013, 2014, 2015 and 2016 the boutique real estate firm of 200+ brokers consistently rank among the top producing firms within the markets that it serves with branches in downtown Seattle, Bainbridge Island, Kirkland, Issaquah and Madison Park.
EDITORS NOTES: For high-resolution photography and floor plans contact Krista Dunn at 206.448.5752 or email Krista(dot)Dunn(at)RSIR.com.