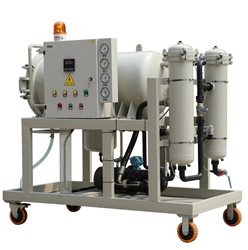 Coalesce Skids with Auto-water Drain for Hydraulic & Lubricating Oils
Xin Xiang (PRWEB) July 08, 2017
FilSon Filters, a leading designer and manufacturer of filter carts, today introduced coalesce skids (COS) with a series of pre-filters, separators, coalescers and particulate removal filters. They feature a high-tech design to remove water and particulates in hydraulic and lubricating oils.
FilSon Filters coalesce skids are fully automated equipment with a PLC system alongside an auto-water drain that allows for a 24/7 continuous operation. This system design with a pre-filter ensures a long service lifespan.
"FilSon coalesce skids are five-stage filtration systems with a hydrophilic medium that seamlessly remove water in oil," said Mrs. Kunvine Lee, FilSon Filters General Manager. "At FilSon Filters, we strive to optimize operation in hydraulic systems by preventing premature component failure or unplanned downtime."
So far, FilSon Filters coalesce skids are recommended for many applications such as transformer, insulating, lubricating, hydraulic and turbine oils. The systems come in different dimensions and shapes to meet unique application requirements.
These coalesce skids have unique features to ensure safety, durability and optimal performance in oil filtration. Every equipment is fitted with coalesce and separator filters that effectively remove free and emulsified water, alongside very small droplets.
They have pre-filters that increase their lifespan. Coalesce purifiers can attain water content of ≤100 ppm and this is possible with the combination of primary, first fine and second fine filtration.
FilSon coalesce skids use energy efficient motors and pumps. The selection of each pump and motor ensures quiet operation, long service and high suction capacity.
To ensure safe operation, FilSon Filters equips every coalesce skid with a differential pressure indicator. They indicate when the filter elements are worn out and need replacement.
In addition to these, the drip tray of FilSon coalesce skids control oil spillage. This ensures the working area is safe.
For easy mobility, they are also fitted with 4 wheels that ensure stable operation. They ensure convenience and seamless operation.
About FilSon Filters
Founded in 2001, FilSon Filters has grown to be a household name in the filter cart and hydraulic strainer industry. Its replacement hydraulic, lube filtration products such as duplex filters and simplex filters, cast iron strainers and offline filtration systems, among others meet the international standards.
The precisely designed and manufactured filtration systems ensure "zero" leakage, with a contamination free operation. FilSon Filters latest product line is the coalesce skids.
For more information:
Contact person: Kunvine Lee (General Manager)
Email: sales(at)filsonfilters(dot)com
Phone: 86-1573-695-8886
Website: http://www.filsonfilters.com/filter-carts/coalesce-skid/