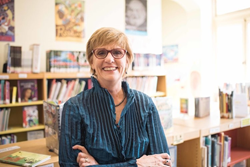 Learning and learning problems dwell in activities and cultural practices rather than in the heads of individual students.
Troy, New York (PRWEB) July 10, 2017
Lois Letchford will present two sessions at the Michigan Reading Association's Summer Literature Conference 2017, Finding Treasures in Literacy, July 12-13, 2017, Shanty Creek Resort, Bellaire, MI.
"Overcoming the Odds" (lower and upper elementary) – the story of how teaching reading through experiences can make the critical difference for those students having difficulties with reading.
"Inspiration and Learning through Poetry" (early childhood, lower and upper elementary) – guidelines and tips for literacy and reading teachers on how to use poetry to help children learn to read.
In her second year presenting to the Michigan Reading Association's Summer Literature Conference, Lois will talk about she became a reading teacher after the amazing journey she took with her son, who was labeled learning disabled at age 7 and now holds a doctorate in mathematics from Oxford University. She will also present her experiences and achievements using poetry to help her students learn to read.
Over the past 20 years, Lois has taught struggling readers in the US, Australia, and England. She has worked with deficient students at all age levels using her creative experiential teaching methods tailored to the reading ability of the student. For beginning readers, she writes poetry, encouraging students to know that they, too, are authors. Once exposed to a wide range of reading, students, with guidance from Lois, can use already existing material to re-engage so they become active, involved learners who can enter the traditional classroom confidently.
Lois holds an MS in Reading and Literature from the University of Albany, SUNY and will publish "Reversed. A Memoir." in March 2018. For more information, visit http://www.LoisLetchford.com.