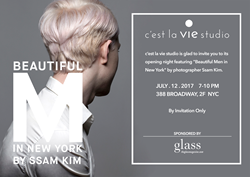 "c'est la vie studio is meant to be more than a place to come to or do at. It is an invitation to live fully through (taking in) Life's Beauty."
New York, NY (PRWEB) July 06, 2017
c'est la vie studio OPENING
c'est la vie studio pledges to be more than a place to come to or do at. It is an invitation to live fully through Life's Beauty.
The studio encourages the conception and sharing of creative works in the fields of Arts, Science, and Business; supporting ideas that make a difference.
The studio sets itself apart as a versatile base for talents of all worlds with ideas that matter, a community that encourages mingling beyond your own world and opening your heart to others ideas and creations across disciplines, and a platform that curates beautiful ideas and artists. Soon: a magazine.
The new studio Life kicks in with Ssam Kim and her first exhibition: "Beautiful Men in New York". Ssam has been working for years to assemble a strong collection of Men encountered in New York. Looking for Beauty beyond beautiful. Real Men. Real Life stories. Stories untold and yet captured. A powerful, yet delicate exhibition. A Fashion Week refresher.
See Beauty in Life. Be happy. C'est la vie!
"BEAUTIFUL MEN IN NEW YORK"- Real Beauty in Fashion. First stop: NYFW17
As a former Fashion Photography student, Ssam likes to blur the lines between "real-ness of Photography" and "sur-real-ness of Fashion"; proposing in this exhibition a look at "real-ness in Fashion". Beyond shooting beautiful faces, Ssam is looking to capture the "real' in these Men's lives; their heart, opinions, fights, body-language... "As I welcome each model, I initiate a discussion with them about themselves." Naturally, the real person comes out and a real connection emerges that powerfully imprints itself onto the picture. "It becomes a story about us, not just me and my object". The result is a vibrant collection of alive portraits, necklines, and groomed Men that tell beautiful life stories.
SSAM KIM -Bio
Born in South Korea. Studied in London. New Yorker since 2012. Fashion Photography Graduate from the London College of Fashion. US editor and photographer for the UK-based fashion and culture magazine glass since 2009. Contributing photographer for publications: Vogue, Harper's Bazaar, W Korea. Shot for Gentle Monster, FILA, Angela Roi, Andaz by Hyatt hotels and Cutler and Gross, etc.
OPENING NIGHT
July 12th, 2017 (7-10pm) – BY INVITATION ONLY
Facebook and Instagram: #cestlaviestudio
http://www.cest-la-vie-studio.com and register to receive Studio Life updates.
Studio deck: https://www.cest-la-vie-studio.com/download/CLV_Studio_deck_July_2017.pdf