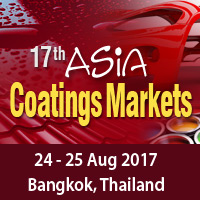 The annual event brings updates on the global coatings industry as well as Asia's automotive, construction, marine and furniture coatings market.
Bangkok, Thailand (PRWEB) July 11, 2017
As the region's annual event bringing updates on the global coatings industry as well as Asia's automotive, construction, marine and furniture coatings market, THE 17th Asia Coatings Markets leads in with some of the key paints and coatings manufacturers on board.
Chugoku Paints, which recently expanded into India's marine coatings markets, presents Mr. Krishan Lal Batra, Advisor, who will speak about 'Marine Coatings Markets in Asia'. In another session, Mr. Robert Rowland, Regional Technical Manager, 3P and MAT Coatings, PPG Coatings provides an account of 'Coatings & Product Shelf Life' with Q10 Case Studies. Another coatings manufacturer – Aditya Birla Chemicals which offers a wide array of Epotec epoxy resins, suitable for protective coatings and civil engineering applications, will have its GM, R&D – Mr. Daniel Suckley presenting a session on 'Epoxy Application & Usage in Coatings'
Attendees of the Bangkok meet also have the opportunity to gain insights on 'New Waterborne Coatings/Resins for Automotive Applications in line with Asia's Automotive Market's Needs' from Mr. Osamu Kirihara, Technical Advisor, Chemical Co. He will delve into the trends and coatings requirements in the automotive industry with details of less energy process of OEM coatings and improvements of car interior coatings and decorative films. Connell Bros Holding – a marketer and distributor of specialty chemicals and ingredients in Asia-Pacific, joins the summit with an account of 'Elastomeric Water Proofing Coating for the Vietnamese Market'.
The event organised by Centre for Management Technology (CMT) also features key presentations by:

CIMB Thailand – Macro-Economic Outlook of Asia & Key Moves to Watch For
Orr & Boss – Global Coatings Industry: Market & Operational Issues
BlueScope Buildings – Construction Growth & Sustainable/Green Architecture trends in Asia (Perspective from façade consultant)
Okeo Furniture – Growing & Emerging Consumers' Needs for Furniture & Corresponding Opportunities for on Decorative & Wood Coatings
Lomon Billions Group – Titanium Dioxide Market Outlook & Trends Towards High Performance TiO2 Pigment Products
Haydale – Graphene for Corrosive Protection Coatings – Commercialization & Economics
For more information about the event, visit 17th Asia Coatings Markets.
Alternatively, contact Ms. Huiyan at +65 6346 9113 for event related enquiries.