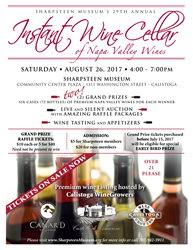 Calistoga, CA (PRWEB) July 05, 2017
Sharpsteen Museum's 29th Instant Wine Cellar fundraiser, scheduled from 4 to 7 p.m. Saturday, Aug. 26 at the Museum Plaza, is fast approaching. The always popular wine cellar drawing and raffle baskets will be enhanced this year by a Silent Auction and a small Live Auction featuring a sausage-making class and dinner for 10 on the grounds of the lovely Canard Vineyard and a deluxe tour, tasting, wine and cheese pairing for 10 and three Magnum Cabernet vertical from Castello di Amorosa.
Two Wine Cellar Grand Prizes are up for grabs this year, each a collection of 72 bottles of the finest wines the Napa Valley has to offer. Tickets are on sale now at the museum for $10 each or 5 tickets for $40, which means one free chance to win. One need not be present to win. Tickets can also be purchased at the event or by downloading an order form from the Museum website.
A variety of the Museum's now famous raffle baskets will be lined up waiting for a good home. Tickets for these are only $2 each and can be purchased at the event only. Filled with prizes donated by generous local businesses, event-goers may find themselves winning hotel rooms, spa treatments, restaurant gift certificates, pottery, jewelry, or wine.
For the wine tasting pleasure of attendees, six (count 'em, 6!) Calistoga AVA wineries will be on hand to pour their finest selections, accompanied by delicious appetizers. Admission to the event is $5 each for Sharpsteen members and $20 each for non-members. Admission allows for unlimited wine tasting during the event. For non-members, museum memberships will be available for sale at the door.
The Instant Wine Cellar is the Museum's only fundraiser this year. Generosity is not only appreciated but also very much needed. Museum officials are extremely thankful for the constant support.
They'd also like to say "thank you" to the enthusiastic volunteers who have already come forward to help make the IWC a success. Help is still needed with raffle ticket advance sales, basket assembly, food preparation, and event set-up and take-down. To help out in any capacity, please contact Chairs Pat and Dave Larsen at 707-341-3313 or dirofdev48(at)gmail(dot)com.
About Sharpsteen Museum:
The Sharpsteen Museum's permanent exhibits are designed to present the history of the upper Napa Valley, from its pre-history to post-World War I with an emphasis on people and changes brought by the period of U.S. emigration and development.
In addition to its many historical exhibits, the Museum uses unique and extraordinarily extensive dioramas to depict Calistoga during its period as the elegant 1860s Hot Springs resort developed by pioneer, promoter, publisher, entrepreneur, and California's first millionaire, Sam Brannan. Sharpsteen Museum has special exhibits which change twice a year, or every six months, and reflect the varied interests of the people of the Valley. They have ranged from antique silverware to model ships to historical musical instruments.