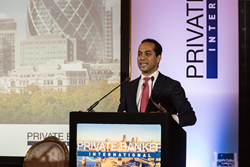 The fundamental reason for why branch banking is failing is because customer service has been pushed down the priority list for most banks, and customers are being conditioned to deal with complicated online platforms
(PRWEB) July 06, 2017
Pilatus Bank is a European-regulated bank that provides private and commercial banking services to high net-worth and affluent individuals and financial institutions. Last week marked the 50th anniversary of the Automated Teller Machine (ATM), or what most of us refer to as the cash machine. The ATM was launched by Barclays Bank, in North London on June 27th, 1967. Fast forward 50 years, and ironically, innovation in banking has not developed much. You enter a pin and withdraw the cash. That's it.
Some argue that branches are becoming immaterial and irrelevant due to the ability of the latest ATMs to perform just about anything that a teller at a branch can do.
The Chairman of Pilatus Bank, Seyed Ali Sadr Hasheminejad said, "There is no empirical data to truly show this causality. In fact, the opposite is true as the functionality of these complex ATMs and branches are disproportionately inadequate and inconvenient for our time, leaving a lot of people frustrated."
Seyed Ali Sadr Hasheminejad continued, "This lack of services is at the core of distrust in the banking system as a whole. Despite the glorified appearance of an ATM being able to communicate with the customer, it fails to address a lot of real issues, namely:
a. Customers do not have time to learn a new process on a complex machine in the middle of the street.
b. Customers are unlikely to want to communicate with a robot especially when they have no confidence that this robot is going to solve their problem.
c. Most customers have a dislike for pre-programmed screens especially if their request goes beyond withdrawing cash from an ATM.
d. Locating these ATMs is frustrating and inconvenient.
e. The identifying and verification processes for the customer is an added inconvenience.
f. Customers do not appreciate having other customers standing a few feet behind them overhearing their potentially frustrating conversation with a robot.
For as long as cash remains the primary method of payment, the ATMs will survive. However, this does not explain why branches are becoming a thing of the past.
Seyed Ali Sadr Hasheminejad at Pilatus Bank finished by adding, "The fundamental reason for why branch banking is failing is because customer service has been pushed down the priority list for most banks, and customers are being conditioned to deal with complicated online platforms. Walking into a branch these days can be a daunting experience whereby most people walk out of the branch with more problems than when they walked in. Unfortunately, high-tech ATMs are not the problem solver and is not going to regain the customer's trust in the banking system anytime soon. We have to find the solution in human interactions, and fintech can certainly solve the scalability problem."
About Us
Pilatus Bank is a leading European regulated bank that specialises in providing private and commercial banking facilities to high net worth and affluent individual as well as financial institutions. Pilatus Bank leverages cutting-edge technology while providing personalised service. We have made significant investments in information technology to facilitate more effective interaction between bankers and clients and to strengthen their relationships. Gone are the days of multiple emails, phone calls, print jobs and faxes to communicate with clients.. To find out more visit http://www.pilatusbank.com