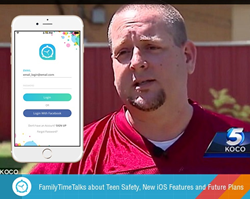 We are glad to be of help to parents and empower parents to stop sex predators from harming children and teens."
Tokyo (PRWEB) July 07, 2017
FamilyTime is an app for digital parental controls that is fast revolutionizing the industry. It helps parents to keep in touch with their kids even when they are on the go. It has rolled out new features and has helped a father to safeguard his daughter form an alleged sex offender.
Ultimate Teen Safety
Leading digital parenting app, FamilyTime, made it big as the news about Oklahoma Dad catching a 33-year-old man trying to sexually exploit his 16-year-old girl using FamilyTime app went viral. The father successfully ran an amateur sting operation as he found out that the guy was sexting his teen daughter, seeking sex. He pretended to be his daughter after monitoring her text messages using FamilyTime app and set out the trap saying, 'I had to do what was right as a father'.
FamilyTime app comes with a wide array of features to help parents keep tabs on their kids' online and offline activities while children can also reach out to their parents in emergency situations using their Child App, the app's version designed for kids. Parents can know their children's whereabouts, monitor their text messages, Internet history, vie installed apps, block certain apps and control their screen time – all from their FamilyTime – Dashboard.
The CEO and Founder, Aziz Ahmed, said, "It's a dangerous world out there and we are glad to be of help to parents who want to tract their children from such sex predators. When we entered the industry, we realized this need and focused on developing an app that could empower parents to stop sex predators from harming children and teens."
New Feature – Daily Limit
FamilyTime has also rolled out a feature for parents using on iOS devices, Daily Limit. With this feature, parents who are using iOS devices to monitor their kids on Android devices can set a daily limit on their app usage. This way, parents can control and cap their children's app usage. The feature allows parents to relax or tighten the daily limit during exam season or holidays. As soon as children consume their daily limit, the apps will be blocked for the rest of the day. This feature is also available on the app's Android version.
Ease of Access – Facebook Login
FamilyTime has another good news for the parents. Now they can sign in with their trusted parental controls app using their Facebook credentials. No need to remember countless passwords, simply enter Facebook username and password and FamilyTime account can be easily created.
FamilyTime has already come a long way and they have the vision to advance even further. In a small time-span, they have rolled several exclusive parental control features making them the industry leaders. FamilyTime is a free app available on GooglePlay and iTunes. For more details, visit their website or call at +18667231238 for further assistance.