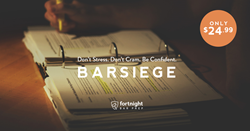 Philadelphia, PA (PRWEB) July 06, 2017
A bar exam preparation company, Fortnight Bar Prep, is making an impact on how law students prepare for the bar exam. The company's flagship product, BarSiege™, is a daily, two-week study guide that breaks down segments hour-by-hour, and helps both first-time exam takers and repeat exam takers participating in the Uniform Bar Exam or exams in any of the 50 states, obtain broad knowledge on all areas of the law, improve memorization, practice essay and multiple-choice questions, and avoid the stress of cramming in the final weeks before the exam.
Vetted by lawyers, BarSiege™ was initially used in private tutoring sessions for more than 15 years, but is now available online for only $24.99, which is much less than most mainstream bar review courses. However, BarSiege™ does not seek to replace other bar review, instead it works perfectly as a final study supplement.
"Like all my peers, the end of my formal bar review course had me feeling exhausted and overwhelmed," said Leanne Gabinelli, a former law student at New York Law School. "There were still two weeks left for critical studying and reading my outlines over and over again was terrifying. BarSiege™ came through and helped me maintain focus on the task at hand, stay strong, avoid the burn out, and solidified my memorization and mnemonics. I successfully passed both the New York and New Jersey state bar exams," Gabinelli said.
Leanne's success is not uncommon. Prior to Fortnight's launch, 98% of first-time bar takers who were tutored with the BarSiege™ study schedule during the final two weeks of test prep, passed the bar exam on the first try, according to Fortnight.
BarSiege™ can provide law students looking for that final push before the July bar exam with the following:

Improved memorization through repetition
A broader knowledge of the law
Ability to practice essays and multiple choice
Better organization with a structured schedule
Assistance staying on track and not getting stuck on one topic
Increased confidence in the days leading up to the exam
BarSiege™ is available online for only $24.99. Visit the Fortnight Bar Prep website to learn more and view a free sample of a BarSiege© schedule here. Students are encouraged to use the tool as a supplement to previous bar review and follow the schedule as closely as possible. BarSiege™ can be used 1-4 weeks prior to taking the exam, and provides students with organization and peace of mind.
About Fortnight Bar Prep
Fortnight Bar Prep was launched in 2017, and is the developer of BarSiege™, the proven most effective study tool for first-time exam takers, as well as repeat takers who are preparing for the Bar Exam. The product was made for lawyers, by lawyers who understand how to help students increase organization and reduce stress in the final two weeks of test prep to improve test outcomes.