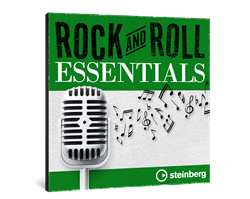 "Rock and Roll Essentials complements the Groove Agent library just right. The Styles and MediaBay preset additions provide the right beat and suitable sound to any production around rock music." (Matthias Quellman, senior marketing manager, Steinberg)
HAMBURG, Germany (PRWEB) July 06, 2017
Steinberg Media Technologies GmbH today announced the immediate availability of the latest VST Sound Instrument Set, Rock and Roll Essentials.
VST Sound Instrument Sets offer a wide range of high-quality sounds, first-class presets and supplementary content for various music genres, crafted by professional sound designers.
Instantly accessible through the Style Player of Groove Agent, the Rock and Roll Essentials expansion set consists of exclusively recorded Styles, spanning a variety of recognizable percussive patterns that defined the rock 'n' roll era.
Available for the Acoustic Agent drum kits of Steinberg's award-winning Groove Agent 4 drum software and the Groove Agent SE 4 plug-in included in latest versions of Cubase, Rock and Roll Essentials features ten Styles with a variety of intros, main grooves, fills and endings that cover different tempos and time signatures.
Senior Marketing Manager Matthias Quellmann commented: "Rock and Roll Essentials complements the Groove Agent library just right. The Styles and MediaBay preset additions provide the right beat and suitable sound to any production around rock 'n' roll music."
Visit http://www.steinberg.net/rockandrollessentials for details on Rock and Roll Essentials.
Availability and pricing
The VST Sound Instrument Set, Rock and Roll Essentials, is exclusively available for download through the Steinberg Online Shop for US$24.99.
Features at a glance

10 Rock and Roll Styles for the Acoustic Agent drum kits in Groove Agent 4 and Groove Agent SE 4
Each Style is featured in a VST preset and comes with a dedicated mixer setting
Grooves cover different tempi and time signatures
Each Style includes main parts, intros, endings and fills
An inexhaustible resource for creating backing tracks, inspiring new compositions and improvisation sessions