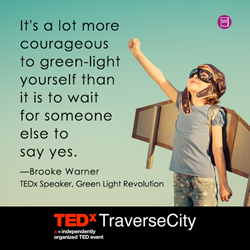 Since art always finds a way, green-lighters are circumventing barriers, and claiming their legitimacy as artists.
Berkeley, CA (PRWEB) July 07, 2017
Brooke Warner, cofounder and publisher of the hybrid publishing house, She Writes Press, took the stage at TEDx Traverse City on May 17 with a powerful message for creatives of every stripe: it's time to stop listening to the gatekeepers and start green-lighting yourself.
In her talk, titled "Green-Light Revolution: Your Creative Life on Your Terms," Warner decries our culture's current obsession with brand, celebrity, and image. "Sure, you might argue it's always been this way," she says. "But never before has there been so much pressure on creative people to have star quality, and never before has celebrity been so arbitrary."
Traditional industries today—namely film, publishing, and music—are taking fewer risks than ever, Warner says, and it's time for artists to take matters into their own hands: "Legitimacy cannot be bestowed; you have to take it—especially today, as our gatekeepers are thinking too small and our culture is rewarding the wrong things." This is where "green-lighters," as she calls them, come in—a group she defines as people who "are not sitting around waiting for someone else to say yes to their dreams." They are "artists and creators and makers who determine that their sense of worth comes from within and not from someplace out there." And her talk is an open invitation for more of these green-lighters to join the ranks of a growing revolution.
Warner acknowledges that taking the leap to pursue your dreams is no easy feat. "Creativity in this culture comes with baggage," she admitted in her talk. "Most of us have raging inner critics telling us we're not good enough. There is so much one-upping and scarcity thinking in the arts." But artists who persevere despite these negative messages, she says, often find success they never dreamed of.
"It's tough to let go of the dream of what you thought your creative future was going to look like," Warner said. "But when you do, you make room for a new dream, that you get to manifest on your own terms. And I personally can't think of anything more freeing or empowering."
Warner's talk is now available on YouTube: http://bit.ly/green-light-revolution-tedx