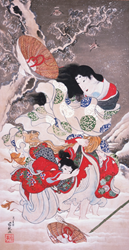 Woodblock prints were produced by a collaborative process between a publisher, artist, woodcutter, and printer during the Edo period and into the Meiji era (1868-1912).
DALLAS, TEXAS (PRWEB) July 05, 2017
Regal courtiers, lively townspeople, tragic heroines and virtuous deities in Japanese art are showcased in exquisite form in Styled with Poise: Figures in Japanese Painting and Prints, presented by ORIX Americas Miyauchi Charitable Foundation at the Crow Collection of Asian Art in Dallas, Texas. On view Saturday, July 8, 2017, through Sunday, Jan. 7, 2018, this exhibition displays art from the Edo period (1603–1868), when a wide range of painting styles and significant developments in woodblock printmaking made visual art accessible to many in Japan.
"The development of woodblock prints allowed for more people to own pictures – of their favorite kabuki actors or even of places people had visited -- there was a surge in domestic travel, especially by the nineteenth century," said Midori Oka, guest curator of Styled with Poise. "Depending on the popularity or demand for a specific image, hundreds and even thousands could have been printed, and they remain highly coveted today."
With the proliferation of woodblock prints, figures in hanging scrolls and screens began to adorn residences – especially in the larger metropolitan areas such as in Kyoto, Osaka, and Edo (current-day Tokyo) – during a time when interior decorations were previously quite sparse. While religious scrolls with important Buddhist figures for worship such as Amida Buddha and other bodhisattva hung in temple halls, depictions of people engaged in daily activities and other popular subjects were enjoyed in the homes of wealthier townsmen. Historical figures were often heralded as upholding the ideals of the past and even ghosts – or figures who met unfortunate or untimely deaths – came to be depicted in painted form.
Woodblock print production reached its zenith by around 1900 in terms of both artistry and production. Prints delighted the commoners since they could acquire a memento of their travels, a portrait of a favorite kabuki actor or even a portrait of a beautiful woman. Just as modern-day people gaze at celebrities in magazines and posters, the residents of Edo did the same with their woodblock prints of kabuki actors.
Woodblock prints were produced by a collaborative process among a publisher, artist, woodcutter and printer during the Edo period and into the Meiji era (1868-1912). They were discovered in the West as early as the late nineteenth century in France, when they were found as packing materials for tea from China and Japan. They continue to be popular items for collectors today.
This exhibition, which features unique works from the Minneapolis Institute of Art and from private collections in Boston and Dallas, draws together a variety of paintings and printed works to explore these many types of figures and figural representation in Japanese art.
The exhibition is presented by ORIX Americas Miyauchi Charitable Foundation. The partnership between the Museum and the Foundation arm of ORIX USA – a Dallas-based financial company that provides investment capital and asset-management services to clients in the corporate, real estate and municipal finance sectors -- includes support of the exhibition installation and related programming.
"ORIX and the ORIX Americas Miyauchi Charitable Foundation have a rich history of enriching the lives of others through support of the arts," said Hideto Nishitani, Chairman, President, and CEO of Dallas-based ORIX USA Corporation. "We are proud to partner with the Crow Collection of Asian Art, in bringing the historical works of art in the Styled with Poise exhibit to the greater Dallas community."
A long-time collaborator with the Crow Collection's curatorial team, curator and Japanese art scholar Midori Oka returns to the Crow Collection to serve as guest curator of Styled with Poise. Oka previously served as guest curator for Fierce Loyalty: A Samurai Complete, currently on view in the museum's Samurai Gallery.
Oka has recently worked with notable museums, including the Metropolitan Museum of Art, New York City; the Peabody Essex Museum in Salem, Massachusetts; the Museum of Fine Arts, Boston; and the Rhode Island School of Design Museum of Art, Providence. Oka holds a master of arts. from the University of Kansas where she specialized in later Edo period painting and is currently the associate director of the Burke Center for Japanese Art at Columbia University.
A members' preview featuring Oka will be held Thursday, Sept. 14, 2017, from 6-8 p.m.
The free, family-friendly AdventureAsia Family Day will be dedicated to Styled with Poise on Saturday, Sept. 2, 2017 from 10 a.m. – 2 p.m.
The Crow Collection of Asian Art is open Tuesdays - Thursdays (10 a.m. - 9 p.m.), Fridays - Saturdays (10 a.m. - 6 p.m.), Sundays (noon - 6 p.m.) and closed on Mondays. Admission is free. The museum is located at 2010 Flora St., Dallas, Texas 75201. For more information, please go to crowcollection.org or call 214-979-6430.
###
About the Crow Collection of Asian Art
The Crow Collection of Asian Art features a variety of spaces and galleries with changing exhibitions featuring the arts and cultures of Asia, including China, Japan, India, Korea, Tibet, Nepal, Vietnam, Cambodia, Thailand, Indonesia, Myanmar and the Philippines, and from the ancient to the contemporary. Seventeen years in operation, this lovingly curated free museum offers a serene setting for quiet reflection in the heart of the Dallas Arts District. Dedicated to providing art and service to the Dallas-Fort Worth community with an emphasis on shared learning and fun, the Crow Collection also offers a lushly landscaped outdoor Sculpture Garden, a pedestrian-friendly lobby and entrance, and a Samurai Gallery to showcase the museum's spectacular acquisition of a complete set of armor, considered one of the finest of its kind in the world. The Crow Collection of Asian Art is a 501c3 non-profit organization, and is supported, in part, by the generosity of Friends of the Crow Collection members and donors. Learn more at crowcollection.org.
About ORIX USA Corporation
Since 1981, ORIX USA has provided innovative capital solutions that clients need to propel their business to the next level. Based in Dallas, ORIX USA has a team of more than 700 employees spanning nearly 20 offices across the U.S. and Brazil. ORIX USA and its family of companies offer investment capital and asset management services to clients in the corporate, real estate, municipal and energy sectors, while holding $6 billion of assets and managing an additional $29 billion, approximately. Its parent company, ORIX Corporation, is a Tokyo-based, publicly owned international financial services company with operations in 37 countries and regions worldwide. ORIX Corporation is listed on the Tokyo (8591) and New York Stock Exchanges (IX). For more information on ORIX USA, visit http://www.orix.com.
MEDIA CONTACTS:
Becky Mayad
work/ 214-352-1881
cell/ 214-697-7745
becky(at)mayadpr(dot)com