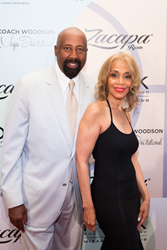 Las Vegas, Nevada (PRWEB) July 05, 2017
The 4th annual Coach Woodson Las Vegas Invitational, the ultimate luxury weekend and kick off to NBA Summer League, hosted by Assistant Clippers Coach Michael Woodson, will take place July 7-9, 2017 in Las Vegas. On Saturday, July 8, the star-studded Woodson Gala & Red Carpet will be hosted at 1 OAK, an exclusive Las Vegas hotspot located in The Mirage Hotel and Casino, with a special performance by grammy-nominated R&B singer, Carl Thomas.
Signed to Sean "Diddy" Combs Bad Boy records in 1997, Thomas released his first single "I wish" in late 1999, topping the R&B charts for weeks, followed by Emotional, his debut album which garnered over $1 million in sales. More recently, Thomas earned a Grammy Award Nomination for "Everyday (Family Reunion)," a song from the soundtrack of Tyler Perry's Madea's Family Reunion.
ESPN SportsCenter Anchor, Jay Harris and Professional Golfer and Fashion Designer, Seema Sadekar, will co-host the star-studded evening that will feature celebrity announcements, signature cocktails, and surprise guests in support of Nations of Coaches, a non-profit organization dedicated to bringing coaches together through guidance and knowledge. Sponsors of the Woodson Gala include MGM Resorts, Mirage Hotel & Casino, Cox Communications, Tanqueray No. TEN and Ciroc.
The Red Carpet Gala will welcome Host and LA Clippers Assistant Coach Mike Woodson, Golf Fashionista Seema Sadekar, NBA Deputy Commissioner, Mark Tatum, former NFL player Andre Reed, sportscasters Jay Harris and Mike Hill, actors Chris Spencer, Lamon Archey, Alex Thomas and Flex Alexander, Coolio, HGTV star Drew Scott, musical talents Jeffrey Osborne, Jarez Posey, Brian Courtney Wilson and Mike Philips, former MLB players Roger Clemens and Kenny Lofton, comedian Actress Mercedes Cornett, Head Coach, LA Clippers, Doc Rivers, former NBA player, Jason Kidd, John Starks, Eddie Johnson, Byron Scott, LaSalle Thompson, Armond Hill, Gerald Henderson Jr & Sr and Larry Drew, and Tanya Thicke.
The three-day event kicks off Friday, July 7 with the Woodson Basketball Youth experience at the Boys & Girls Club Las Vegas, an educational clinic where junior participants will receive hands-on coaching experience from the accomplished Woodson and special NBA Legends. Saturday, July 8, will include Practice Rounds at Cascata Golf Club, followed by the highly anticipated Woodson Gala, Red Carpet & Pairings Party 1 OAK Nightclub. On Sunday, July 9, Cascata Golf Club hosts the Woodson Invitational Golf Tournament and a special Women's experience, hosted by Terri Woodson, wife of Mike Woodson.
Select VIP Packages are still available and can be tailored to include golf, hospitality, and invitations to the private parties and the gala at 1 OAK. For information on VIP experiences call Play Golf Designs Inc.: 310.926.4075. For more information, visit http://www.CoachWoodsonInvitational.com.
For media credentials or to attend the events, reach out to Rachel Rees: 949.466.8938. rachel(at)pgdglobal.com
Twitter: @COACHWOODSONinv Instagram: @woodsoninvitational