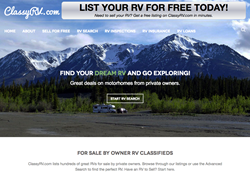 (PRWEB) July 06, 2017
At the start of the summer 2017 RV season, National Vehicle, a leader in the vehicle sales industry for over fifteen years, is excited to announce the re-launching of its flagship online RV sales site, ClassyRV.com. Dedicated to maintaining a dealer-free sales zone, the site is now offering free nationwide classified listings for all privately owned RVs in addition to the familiar assistance and services customers have come to know and trust.
Shifting its focus toward no-cost classified advertising and more individualized sales, valuation and loan service is grounded in the company's mission of always striving to provide better, more comprehensive customer service. Kevin Tadlock, President, explains, "This is a more targeted approach of showing our buyers and sellers that we are in the business of meeting their needs in every possible way. Our aim is to streamline the buying and selling process for everyone, and to have our experienced customer service representatives do the legwork necessary to connect appropriate buyers with sellers."
With the re-launch of the site, ClassyRV.com offers customers:

Free classified listings for all RVs for sale by owner with full color photos, detailed descriptions of every vehicle, a clear asking price, and no after sale fees, commission or additional charges.
Experienced customer care team members providing expert advice on inspections, financing, transport, escrow, insurance, and everything related to the sale or purchase of an RV.
Privacy protection and thorough screening of all potential buyers and sellers.
Complimentary valuations of all vehicles offered for sale.
Expert inspections performed by an NRVIA Certified RV Inspector.
An exclusive FSBO marketplace with no dealer competition.
As an industry leader for over fifteen years, ClassyRV.com (an extension of National Vehicle) has been the nation's most trusted source for online recreational vehicles. With an audience of millions of buyers and sellers, ClassyRV.com, together with National Vehicle, has proven that no other online service works harder at reaching so many diverse markets. Named on Inc. 5000's 2009 List of America's Fastest Growing Companies, ClassyRV.com strives to provide access to the world's best deals and to exceed the expectations of its customers.