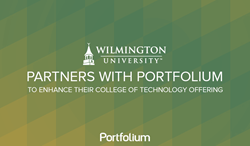 Portfolium truly fits all the needs that the faculty identified after assessing the career services requirements of our students
SAN DIEGO, CA (PRWEB) July 11, 2017
Portfolium, an ePortfolio platform which enables students to capture, curate, and convert skills into job offers, today announced that they will be partnering with Wilmington University to deliver their cloud-based portfolio solution to the College of Technology (COT). By engaging with Portfolium, students enrolled in this program at Wilmington will have the opportunity to create powerful ePortfolios that will help them in future career endeavors.
Wilmington University's College of Technology is designed to address a wide range of career needs surrounding the informational technology, graphic design, video production, game design, and photography fields. Students learn creative, technical and managerial perspectives to aid them in becoming competent practitioners and leaders in their chosen field while simultaneously becoming versed in leadership and stewardship responsibilities as they assume those roles in society.
"Portfolium truly fits all the needs that the faculty identified after assessing the career services requirements of our students," said Dr. Sallie Reissman, Associate Vice President and Dean of the College of Online and Experiential Learning at Wilmington University. "Not only does it facilitate a student's ability to track in-class assignments, but it also allows them the ability to convert finished work into a dynamic portfolio that will be made searchable to potential employers as they transition from students to career professionals."
"Wilmington University is proof that ePorfolios are no longer just for art students. Their program will even require Portfolium usage in many of their course offerings," said Troy Markowitz, VP Partnerships at Portfolium. "Employers will then have the benefit of sourcing their student talent through the unique job matching component of Portfolium where all program artifacts and skills can be searched and matched to career opportunity derived from classroom instruction."
The National Security Agency and the Department of Homeland Security have designated Wilmington University's COT as a National Center of Academic Excellence in Information Assurance/Cybersecurity. The core competencies and skills that students develop through the programs at College of Technology programs will be primed to be showcased in their Portfolium ePortfolios for maximum effect.
ABOUT PORTFOLIUM: Portfolium partners with colleges universities to help students transform learning into opportunity. Our ePortfolio network helps millions of students and alumni from over 2,000 institutions manage their skills and launch their careers. Portfolium's cloud-based platform empowers students with lifelong opportunities to capture, curate, and convert skills into job offers, while giving learning institutions and employers the tools they need to assess competencies and recruit talent.
Media Contact:
Sarah Pease or Edgar Rodriguez
Portfolium
917.974.4729
sarahpease(at)portfolium(dot)com
edgar(at)portfolium(dot)com