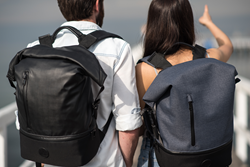 "The Shift Pack was designed around its name; it's a comfortable, accessible pack that can quickly transition from the morning commute, to a lunchtime gym session or that last-minute vacation," said Ramiro Gomez, cofounder of ALPAKA
Melbourne, Australia (PRWEB) July 06, 2017
Today, ALPAKA, a designer of versatile everyday carry solutions, announced it is returning to Kickstarter with its latest creation, the Shift Pack. Following the successful 2016 campaign for its flagship 7ven Messenger bag, ALPAKA is bringing its unique styling and versatile designs to an everyday travel backpack equally fit to the formality of a work day or the casual demands of a weekend getaway. With backer packages starting at $159.00 USD, the Shift Pack is now available on Kickstarter, and the campaign page can be found here: http://bit.ly/KSshiftpack.
With the Shift Pack, ALPAKA co-founders Ramiro Gomez and Jin Li, were looking to balance form and function for the array of potential uses that arise in busy lives. Balancing the changing capacity needs of today's on-the-go lifestyles, the Shift Pack features a main roll-top compartment that quickly expands from a daily commuter to a larger travel pack. This largest compartment also features a reach-in vertically-oriented front zipper for a stylish touch and functional appeal.
"The Shift Pack was designed around its name; it's a comfortable, accessible pack that can quickly transition from the routine morning commute, to a lunchtime gym session and still be ready to hop a late flight for that last-minute vacation deal," said Ramiro Gomez, cofounder of ALPAKA. "Following the overwhelming support we saw for our first product, the 7ven Messenger, we couldn't wait to get back to the design table to tackle our first backpack, and now that the Shift Pack is finally here we wanted the Kickstarter community to have the first chance to purchase this new design."
Whether commuting to school or hitting the open road, no one leaves home without their necessary tech, and the multi-purpose padded bottom compartment can just as easily accommodate shoes and gym clothes, as a camera and small lens or even a Mavic Pro drone. The Shift Pack's padded laptop compartment can accommodate up to a 17 inch device, still leaving some extra room for a tablet or papers, and its modular utility pouch and water bottle holder can add additional storage when needed.
To meet its dual work and adventure roles, the Shift Pack also features an integrated hidden pocket for keeping valuable passports, cash or credit cards safe from pickpockets. The durable leather-wrapped carry handle provides comfort when moving the pack around a crowded train, and its freestanding design keeps the Shift Pack from tipping over in the dirt. For regular travelers the Shift Pack also features a travel-friendly luggage sleeve on the contoured back panel, and padded straps offer a shock-absorbing upper suspension system for all day comfort.
Clad in a weatherproof coated nylon (available in black) or a high-end faux wool (available in blue and grey) the Shift Pack is easy to clean when transitioning from downhill bike trails back to the subway. Protected behind waterproof YKK zippers, the interior is crafted from rip-stop nylon with German-designed magnetic latches for smooth access.
With backpacker packages starting at $159.00 USD, the Shift Pack Kickstarter campaign will run for 44 days, and can be found here: http://bit.ly/KSshiftpack.
About ALPAKA
Headquartered in Melbourne, Australia, ALPAKA is a designer of versatile everyday carry solutions. Co-founded by Ramiro Gómez and Jin Li, who met while studying for their master's degrees, ALPAKA was born out of their combined love of design and shared entrepreneurial spirit. ALPAKA's flagship product, the 7ven Messenger bag, realized amazing support when it launched to the Kickstarter community in 2016. For more information, visit http://www.alpakagear.com/.
###
Media Contact:
Zach Heath
zach(at)engagecoms.com
(401) 559-7350