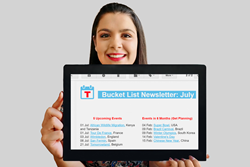 My dream is to help everyone with their world event bucket list
(PRWEB) July 18, 2017
Travelendar.com, a digital, travel-based interactive calendar that provides site users with recommendations, information, and updates regarding world events and travel destinations, launched their Bucket List Newsletter, a newsletter devoted solely to informing followers on world events worth their consideration.
Working hard to become the number one place to find travel tips, ideas, and inspiration, the new newsletter has also launched a Kickstarter campaign for garnering widespread support to back the marketing budget necessary for the product rollout.
"My dream is to help everyone with their world event bucket list," said Ben Ooi, Founder and Owner of Travelendar.com. "As an event chaser myself, I know how time consuming and frustrating it can be nailing down big world events month in advance. With our new newsletter, subscribers simply open it up and peruse the upcoming events, which are always at least 6-months away."
Ooi, inspired by his own travel habits, founded Travelendar to provide individuals with information regarding big travel events. Ooi would make his travel destination based on an annual or infrequent event, and explore the respective city and country after it took place. Now with the Bucket List Newsletter, his knack for locating once-in-a-lifetime travel events can become every subscriber's reality.
Since the Bucket List Newsletter will inform travelers of events at least 6-months in advance, readers will be able to save money on tickets, accommodation, and airfare whilst booking. Additionally, they will be able to keep in touch with upcoming world events and important dates, while also adding their bookmarked events to the Travel Event Calendar on Travelendar.
"After experiencing events in over 30-countries, I'm ready to share my insight with people who have a passion for travel," said Ooi. "This newsletter is for anyone looking to plan an upcoming trip. It will be delivered once per month to everyone's inbox with completely unique findings. Plus, it's a digital, environmentally friendly way to disseminate important information. Spread the word on the launch of our new newsletter, and head on over to our Kickstarter campaign to help us advance our marketing efforts."
Ooi has attended the likes of Oktoberfest, FIFA World Cup 2014, the London 2012 Olympic Games, Hogmanay, and the Tour de France.
To consider backing the Kickstarter crowdfunding campaign, visit: https://www.kickstarter.com/projects/1417584007/the-worlds-first-bucket-list-newsletter
For more information, visit: https://www.travelendar.com/