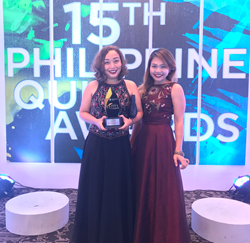 Qualfon Dumaguete stands tall today, knowing that our training programs and efforts to enhance communication skills are considered among the best in the country.
(PRWEB) July 11, 2017
Qualfon, a mission-driven business process outsourcing (BPO) company and global provider of contact center services, was recognized with a Philippine Quill award from the International Association of Business Communicators (IABC) Philippines. The award marks excellence in business communication and was presented to Qualfon during a special ceremony held on July 5th. Qualfon was honored for its leadership in communication training and education, particularly for its Near-Hire Program that helps people find employment by improving their communication skills. Considered as one of the country's most prestigious awards in business, the Philippine Quill is the local counterpart of the IABC's Gold Quill Awards.
"Qualfon Dumaguete stands tall today, knowing that our training programs and efforts to enhance communication skills are considered among the best in the country. Qualfon works diligently to adhere to communication best practices and celebrates the leadership it helps our company and our community achieve. Thank you to the awards committee for this top honor," said David Bruce Jackson, Site Director, Qualfon Dumaguete.
In the Communication Training and Education category, the Quill award recognizes the role that Qualfon plays in developing and delivering educational training that promotes communication skills and the communication profession. As the winner, Qualfon exemplifies excellence in aligning goals and assessments with learning outcomes while also demonstrating an impact outside the classroom. More than 700 companies and schools competed for the Philippine Quill Awards.
Qualfon's Near-Hire Program: Helping People Find Employment
Qualfon Dumaguete's Near-Hire Program is a five-day, intensive communication and customer service workshop that aspires to help job applicants both improve their communication skills and gain the confidence they need to secure employment. Originally developed by the Qualfon Dumaguete Recruiting Department to increase the number of qualified job applicants, the program has since evolved into a social service, empowering people with skill sets that cross over into a variety of service industries and job opportunities.
"We started training applicants on communication skills and basic knowledge about customer service and the contact center industry, but we soon realized that we help not only the people that get hired at Qualfon but also those who do not get hired. Today, the program guides trainees in finding jobs at Qualfon and at other companies," said Carla Basa-Martinez, Communication Trainer at Qualfon Dumaguete.
Qualfon's company mission is "be the best BPO. Make people's lives better." So, the program progressed from serving the business needs of the company to supporting Qualfon's Mission Office and its agenda to enhance the lives of all people—employees, families, and the larger community.
The program aims to educate trainees on contact center work responsibilities, how their qualifications stack against the requirements, and their strengths and weaknesses, so that they may improve themselves, gain confidence, and communicate more clearly. The hope is that they use this knowledge to find employment and, in turn, can better support their families.
Qualfon screens job applicants with an interview, a typing test, and an English proficiency test. The fielding process identifies applicants who fall just short of the qualification threshold and endorses them to attend Near-Hire training. Typically, trainees have a strong foundation in communication but need a helping hand with grammar, industry knowledge, and customer service pleasantries. The program offers a five-day training curriculum free of charge. Courses include: pronunciation, grammar, sentence construction, intonation, extemporaneous speaking, idiomatic expressions, listening techniques, sentence practice, American culture, customer service, contact center overview, basic call flow, and role-play exercises.
"A lot of trainees had to quit school early or are working students who have yet to be exposed to contact centers and what the job entails. They cannot afford a formal one-month contact center training course, and that's where we come in," added Basa-Martinez. "It is our goal to give them knowledge and experience that they can use for the rest of their lives."
Between October and December 2016, the program helped Qualfon Dumaguete generate 15% more qualified applicants, but it is making a difference in the lives of many people. To date, most of the former trainees are either gainfully employed by Qualfon or by other contact centers. Others are employed in the service industry either locally or abroad. After the training is over, Qualfon keeps tabs on the students, encouraging them with career advice and inviting them to reapply after three months. A Facebook page keeps the group connected.
Mylz Estepa, Senior Mission Manager at Qualfon Dumaguete, explained, "Caring for the welfare of the trainees extends beyond the four walls of the classroom and beyond the five-day training. It is continuous care and support for our trainees. This is exactly what the company mission is all about."
To quote the 2017 Quill Awards entry, "What began as a way to fill a need for qualified applicants has evolved into a program that touches the lives of people in Dumaguete. This is the embodiment of the Qualfon Mission. We are not simply about being the best BPO. We strive in all facets to demonstrate not only excellence in our craft but more importantly, to make people's lives better. This is our calling. This is our mission."
About IABC
The International Association of Business Communicators (IABC) is the recognized global community of communication professionals representing diverse industries and disciplines. We connect communicators with a global and local network, career opportunities, resources and knowledge—using communication to engage, influence, counsel and execute. At the forefront of the communication profession and setting the global standard, our members are professionals who practice with integrity and passion. For more information, visit http://www.iabc.com.
About Qualfon
Qualfon is a mission-driven BPO company and a global provider of contact center services and back-office processing. With experienced BPO leadership and a strong track record of business growth dating back to our founding in 1995, Qualfon helps companies reduce costs and deliver superior customer experiences. Today, we have approximately 13,000 employees serving international brands across many industries, and our intelligent outsourcing locations span the United States, the Philippines, Guyana S.A., and Mexico. Qualfon's mission to "Be the Best BPO, Make People's Lives Better" means we invest in our people and, in return, they take better care of you and your customers. Qualfon's employee retention regularly exceeds the industry average, which creates a people-driven value chain: Our employees stay longer, providing you a higher quality service at a lower price. http://www.Qualfon.com