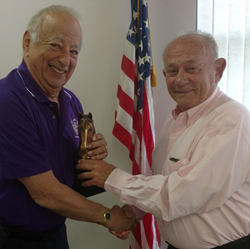 (PRWEB) July 06, 2017
Louisville, Ky. (July 5, 2017) – Mark your calendar for Jan. 17-19, 2018, as the Louisville Manufactured Housing Show, the Midwest's premier event for manufactured housing professionals, returns to Louisville, Kentucky.
For more than 50 years, The Louisville Show has brought together the latest manufactured home designs, tech and the best network of suppliers in the industry. In 2017, The Louisville Show attracted record numbers of industry professionals, reaching 2,929 attendees from 962 companies.
"The Louisville Show represents the best the manufactured housing industry has to offer," said Kreil Moran, Chairman of the Midwest Manufactured Housing Federation, an industry trade association and producer of the Louisville Manufactured Housing Show. "I believe everyone can agree that the 2017 show was a great success, and we look forward to 2018 being the best yet."
Moran is beginning his tenure as federation chairman, taking over for Ron Thomas, who we at the Louisville Show would like to thank for his years of service.
As in years past, the show will be held inside the Kentucky Exposition Center in Louisville, Kentucky, where manufactured housing professionals can tour 57 model homes from the top 20 manufacturers. Attendees also can talk with more than 100 service and supplier exhibitors to show their latest industry supplies, materials and services.
The Louisville Show allows exhibitors to showcase products and services at the place where qualified industry buyers come for ideas and inspiration. January is an optimal time to understand customers' wants and needs as they prepare for the region's spring selling season.
In addition to the model home displays and supplier exhibits, the Louisville Show will also feature a series of educational seminars. These seminars will provide attendees with strategies to directly improve business performance, while still allowing plenty of time to visit homes and exhibits during the three show days.
Exhibit opportunities are now open and available. Exhibit space will sell out fast! General registration details will be announced in the coming months. In the meantime, manufactured housing industry professionals can remain informed about the 2018 show through the e-newsletter available at The Louisville Show website.
As an industry trade event, the 2018 Louisville Show is not open to the public. For more information, visit The Louisville Show website at http://www.thelouisvilleshow.com
Show Produced and Managed by:
Show Ways Unlimited
Dennis Hill, Show Coordinator
(770) 587-3350
The Midwest Manufactured Housing Federation
The Midwest Manufactured Housing Federation is a trade-association dedicated to the promotion and advancement of the manufactured housing industry throughout Illinois, Indiana, Kentucky, Michigan and Ohio. The Federation holds the Louisville Manufactured Housing Show annually in Louisville, Kentucky.