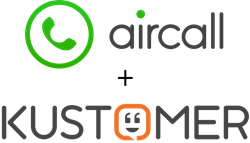 We understand the importance of building a base of partners that use our API to empower their customer's sales and service teams.
New York City, NY (PRWEB) July 06, 2017
Aircall, the leading cloud-based phone system for small-to-medium sized businesses (SMBs), today announced the launch of its technology integration with Kustomer, the leading CRM solution for Support Teams. As the first public integration to be built on top of Aircall's API, the partnership marks a key milestone in the development of Aircall's partner ecosystem.
Available immediately, both Aircall and Kustomer users can instantly deploy this powerful integration. At the foundation of this integration is Aircall's API, which enables third party partners such as Kustomer to easily integrate with its platform.
"Developing our API will be our top priority in the coming months and years," says Glenn Fleischman, VP North America at Aircall. "We understand the importance of building a base of partners that use our API to empower their customer's sales and service teams."
Kustomer has leveraged Aircall's powerful API and webhooks to integrate phone calls into the existing workflows of its customers, enabling users to drastically increase the efficiency of its users.
"Aircall is an excellent example of how leading players in the technology space are integrating with Kustomer to incorporate their products with Kustomer's revolutionary CRM for Support Teams," says Brad Birnbaum, CEO of Kustomer. "With Kustomer, all of the information about the customer appears in one place without the need to tab to other applications. Our custom object model makes it easy for companies like Aircall to seamlessly integrate into our phone channel."
Through the Kustomer integration, Aircall allows you to:

Automatically load the customer's timeline in Kustomer for review and create a note draft where you can begin taking notes on the conversation.
Record events that happen in the phone call, while also seeing any previous inbound or outbound customer messages sent through email, text, chat, or Facebook Messenger.
Review call events that are added automatically in Kustomer to mark call progress.
See any missed calls or voicemail messages as visual reminders in Kustomer.
The Aircall-Kustomer integration is available immediately and can be accessed through Aircall and the workflow configuration inside Kustomer.
About Aircall
Founded in 2014 within the startup studio eFounders, with offices in New York City and Paris, Aircall is a next generation cloud-based global phone solution that allows small and medium businesses (SMBs) to set up their sales and support phone system quickly with local numbers in over 40 countries. Aircall is used by thousands of teams across the globe. Learn more at http://aircall.io
About Kustomer
Kustomer is the leading CRM for Support Teams and provides everything you need to serve customers better. This includes a behavioral customer dashboard, team member intelligence and custom features including objects and workflows. Founded by the team that built Assistly, which was sold to Salesforce and became Desk.com, the company is backed by Canaan Partners, Boldstart Ventures, Social Leverage and BoxGroup. For more information, please visit http://www.kustomer.com.
Media Contacts
Aircall:
Carmel Schetrit
(347) 318-0705
press(at)aircall.io
Kustomer
Kathleen Kranzlin
(212) 497-1188
marketing(at)kustomer.com