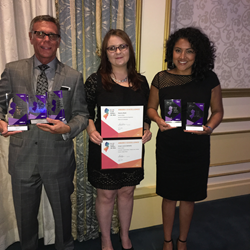 Fairfield, NJ (PRWEB) July 06, 2017
Seven prestigious "Jersey Awards" were recently presented to Kearny Bank at the New Jersey Advertising Club's 49th annual recognition event, held in Cedar Grove.
The Jersey Awards celebrate creative excellence in advertising across the state of New Jersey. Specifically, Fairfield, NJ-based Kearny Bank won the following awards:

1st place, two-page home loan ad, magazine
1st place, resident lending, vehicle wrap – bus
2nd place, residential lending, newspaper ad
2nd place, home financing, transit king panel – bus
2nd place, high yield checking, digital media campaign
3rd place, radio campaign, "Secrets to Banking Happiness"
3rd place, customer appreciation, Mardi Gras-themed poster
"A significant amount of creative energy goes into developing all of our various advertising materials," says Eric Kesselman, Kearny Bank's 1st Vice President/Director of Marketing. "Receiving this type of recognition is extremely rewarding for our in-house team and our advertising partners. It's further confirmation that we've created some truly effective communication pieces."
Award recipients were determined by a panel of judges that included the Westchester (NY) Advertising Club, plus other professionals from that area. The panel met in March to review more than 500 entries. In total, 278 awards were presented at the NJ Ad Club event, for which Kearny Bank was a sponsor.
About Kearny Bank
Kearny Financial Corp. is the parent company of Kearny Bank, which operates from its administrative headquarters building in Fairfield, NJ. Kearny Bank has supported the communities it serves since 1884. The bank has assets of $4.8 billion and operates 42 full-service banking offices in northern and central New Jersey, and in Brooklyn and Staten Island, New York.