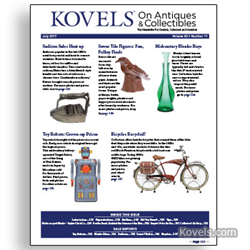 Cleveland, OH (PRWEB) July 06, 2017
Toy robots auctioned in Pennsylvania are featured in a sale report in Kovels on Antiques & Collectibles July 2017 newsletter. Rare early robots, complete with their original boxes, tend to send collectors into orbit. See mesmerizing Japanese-made robots from the 1930s to 1960s that sold for $30 to $9,600. Blenko best known for its brightly colored glass tableware and vases sold in a Virginia auction. Collectors look for rare or experimental colors. Kovels' July issue pictures examples that sold from $35 to $702. And sadirons that were popular in the late 1800s used heavy metal and heat to remove wrinkles. The irons sold at a Missouri auction with prices that started at just $5 but many went for hundreds of dollars. See the unique combination sadiron/fluter (used to create ruffles) with two sets of rollers and a John Hewitt-style handle that brought $600.
Sewer tile art may sound like an odd collectible. The tiles were made from clay left over by manufacturers of sewer drain pipes. Animals and birds are the most popular forms. An early 20th-century sewer tile American Indian bust sold in an Ohio auction for $2,280. Kovels' July newsletter has pictures and prices of a variety of tiles along with tips on identifying them.
There's nothing like a bike ride on a summer night. Kovels July issue features pictures of a variety of antique and vintage bicycles. A New York auction house sold an 1870s velocipede bicycle by Morse & Morton for $21,060.
Kim Kovel goes "on the road" to New York City to big fairs during art week. However, the highlight of the trip was a behind-the-scene tour at the Metropolitan Museum of Art (Met). Get an inside peek at some of the most fascinating objects in the collection. The popular illustrated Collector's Gallery answers readers' questions about an old Coca Cola cooler radio, a teapot from 1882, a Shirley Temple baby doll, and cast iron hearth stand. June's Dictionary of Marks lists Arts and Crafts metalworkers. And more than 70 antiques and collectibles are listed in the Buyer's Price Guide.
Kovels on Antiques & Collectibles is available as a print subscription, or as a digital version that is part of the Kovels.com Premium subscription.
Terry Kovel is America's foremost authority on antiques and collectibles. She is the well-known columnist and author of more than 100 books on antiques and collecting. Kovels' Antiques & Collectibles Price Guide, 2017 edition, is currently available at Kovels.com and local bookstores. Terry Kovel will discuss antiques and collectibles topics with accredited media. Photographs are available. Contact pr(at)kovels(dot)com.
About Kovels.com
Kovels.com, created by Terry Kovel and her daughter, Kim Kovel, provides collectors and researchers with up-to-date and accurate information on antiques and collectibles. The company was founded in 1953 by Terry Kovel and her late husband, Ralph. Since then, the Kovels have written some of America's most popular books and articles about antiques, including the best-selling Kovels' Antiques and Collectibles Price Guide 2017. The website, Kovels.com, online since 1998, offers more than a million free prices, and includes a free weekly email, "Kovels Komments." It gives readers a bird's-eye view of the market through the latest news, auction reports, a Marks Dictionary, readers' questions and answers and much more.
Contact Information:
Liz Lillis
216.752.2252
Pr(at)kovels(dot)com