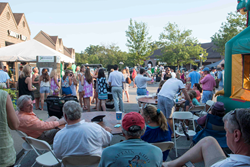 "This is our big shindig to celebrate 27 years of Otey's and all of our friends who have supported us throughout." - Will Haver, Owner of Otey's Tavern
MOUNTAIN BROOK, AL (PRWEB) July 06, 2017
Otey's Tavern in Crestline Village of Mountain Brook announces their annual midsummer festival Otey's Fest will be the evening of Saturday, July 29th. The event will again benefit local organizations Better Basics and the Phoenix Club of Birmingham.
Headlining the event will be New Orleans "rock gumbo" group Cowboy Mouth. The Louisiana Music Hall of Fame group had several Billboard Rock chart achievements with their hit "Jenny Says" and has toured extensively over the years with Barenaked Ladies, Sister Hazel, and other 1990s-alternative rock acts.
Supporting Cowboy Mouth will be 80s music group The Cheesebrokers and Otey's Tavern staple rock groups The Hurlers and Little Memphis.
"We are excited to once again showcase Mountain Brook and the Crestline community to our friends throughout the Birmingham area," said Will Haver, owner of Otey's Tavern.
A family-friendly event, gates open at 5pm and will feature a moon walk and activities for children. Rodney Davis, kitchen manager at Otey's, will come out of the kitchen and will be grilling his award-winning cheeseburgers and blackened chicken sandwiches outside in the Otey's parking lot.
"This is our big shindig to celebrate 27 years of Otey's and all of our friends who have supported us throughout," added Haver.
Local beers from Birmingham breweries will be available at a local draft beer tent, as well as an Otey's Famous Cocktail tent will be in the Otey's parking lot for patrons.
Proceeds from ticket sales of Otey's Fest will be benefitting Better Basics and the Phoenix Club of Birmingham. The Phoenix Club of Birmingham is an organization that provides developmental opportunities for young professional men to become social, business, and philanthropic leaders in the community. A partner and supporter of the Boys & Girls Club, the Phoenix Club of Birmingham seeks to impact the direction of the community's youth through fundraising and interaction.
Better Basics is a local organization with the mission of advancing literacy for at-risk youth through enrichment and intervention programs.
Otey's Fest is a rain or shine event, with gates opening at 5pm. Beginning July 1, advance tickets are $20 and can be purchased online at OteysFest.com or on-site at Otey's Tavern. Tickets can be purchased on the day of the event for $25, cash-only. Limited VIP tickets available.
###
Otey's Tavern, opened in 1989, is located at 224 Country Club Park in Crestline Village, Mountain Brook, AL. With award-winning menu recipes from 20-plus year head cook and manager Rodney Davis, Otey's Tavern has become an institution in the Mountain Brook and Crestline community. Open Monday through Saturday, Otey's is open for lunch and dinner, with live music three nights each week. Visit Otey's Tavern online at http://www.OteysTavern.com.
For further information on this matter, please contact Harry Long of 81 Shop, LLC at hlong(at)go81shop.com or 205 693-8181.